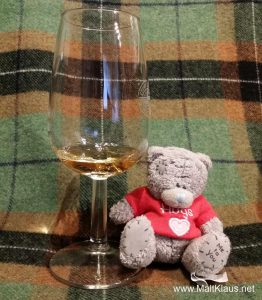 Dram data:
Distillery: Banff
Bottler: Cadenhead's
Distilled: 1976
Bottled: 2017
Age: 40
Limitation: 192 bottles
Casks: ex-bourbon hogshead
Alcohol: 51,2%
unchillfiltered / uncoloured
Whiskybase link
This 40 yo Banff, distilled in 1976, was part of the 175th anniversary bottling by the independend bottler Cadenhead's, and we got the chance to try it during the matching tasting with Mark Watt during the Campbeltown whisky festival 2017. I liked what I tasted (I had it at a tie with the Rosebank), so I brought most of the sample home for a proper tasting session. Let's do this!

Tasting notes:
Colour: coppery gold
The nose is anything but weak – still going strong after 40 years in a hoggie! What did they do differently in the 70s? Many drams from that era (even ones bottled at a relatively young age) have such a rich, fruity, waxy palate that has rarely been produced since. We've got orange peel, waxed red apples, tinned peaches and tangerines, brown banana, banana bread, strawberries in milk chocolate. In short: a complex, rich summer fruit salad served on sweet bread. (Please, hipsters, don't make that a thing!). Oak, you ask? Well… just a smidgen of oak influence and a light generic herbal note holding everything together in the background, but this is mostly distillate and age talking here. With extended time in the glass, the herbal notes intensify a bit.
The palate doesn't disappoint either! Quite an alcoholic nip up front, immediately followed by candied oranges and a pinch of ginger before the fruity notes appear. Again we've got quite a mix of different fruits going on here – tinned peaches and tangerines, fully ripe gooseberries, waxed red apples, sweet pear, medium ripe bananas. In the background we've got fragrant oak (not too much, not too little) paired with dry herbal notes (just generic, green, dried herbs, nothing in particular sticks out). The herbal aspect keeps the dram from being too sweet – actually it's not sweet at all, just fruity and herbal in combination. Once again, this is so typical "70s style ex-bourbon whisky" to me, it's astonishing. The medium-long finish is punchy upon swallowing, with ginger and orange peel, before a mix of fruits (apples, peaches) and herbal notes paired with oak set in, carrying it all the way to the end, which appears a bit too soon.
Verdict:
There really isn't anything to dislike about this whisky – a herbal fruit bomb from the 70s, not too sweet, not too dry, with a good oomph and definitely nowhere near being overpowered by oak (thank god!). A very nice dram indeed, worthy of the 175th anniversary it was being bottled for. What's also good to see is that it comes in the same standard packaging as all other Cadenhead's whiskies – a celebratory label is all that distinguishes it. No need for posh decanters or wooden boxes – let the whisky speak for itself, which comes at a rather reasonable price (at least in the UK home market) for the crazy times we are in. Not sure how many of these are still out there – if you want one, be quick!
Score: 91/100
(Nose: 91 Palate: 91 Finish: 89)