This year's whisky adventure turned out to be more of a whisky roadtrip. In the end it would lead me (as the designated drinker) and my malt mate Jo (designated driver) on a 1808 mile round trip from the south of England to the Orkneys and back.
To Scotland!
Having flown into Heathrow the day before, and staying the night at my friend's house in Gloucestershire, our first day had a very early start. Getting up and having breakfast at 4:30 a.m. was the right thing to do, since it turned out the Mazda MX5 took quite a bit of packing finesse to accommodate all the stuff two adult people need for two weeks on the road! Finally leaving at 6 a.m. sharp and taking a few stops in between for lunch, tea, more tea and beer at Loch Fyne, we finally arrived in the middle of nowhere in Campbeltown at a few minutes past 6 p.m. Great driving, Jo!
Jo and I were, however, not alone for that part of our trip, we had booked a cottage on a working farm for 6 people (go ask me about the drama regarding accommodation booking when you meet me in person!). Since Jo and I were the last ones to arrive (having driven the longest distance of all!), our house mates and good friends Justine, Viva, Flo and Stefan were already waiting for us. The group, also called the #referendrams, were finally assembled and ready to rumble dram! Pizza, beer, drams and laughter were on the agenda for the rest of the day/evening. The next day, the Campbeltown malts festival would officially begin and we were as excited as little kids when the circus comes to town!
Campbeltown malts festival day 1
The first day of the Campbeltown malts festival is always Glen Scotia open day. So, naturally, four of us started the day with a… Springbank Society tasting, of course! Ahem. As you do.
Now, entering the Springbank courtyard and the tasting room felt like one big family reunion. WOW! So many familiar faces, so many hellos, hugs, high fives, fist bumps… I couldn't possibly name all the people I met that day – you know who you are and I'm glad having met each and every one of you!
Springbank Society tasting
The Society tasting used to be the tasting where the autumn society bottling would be voted on – but not so this time! Instead, we were faced with a rather difficult blind tasting of four drams. We knew they were Springbank, Longrow, Hazelburn and Kilkerran, we also knew the ages and were given a rather long list of possible cask types. 12 possible answers to get wrong – or right. A very fun tasting with loads of head scratching and Springbank folk wandering between the tables confusing helping people. All good fun! In the end, I believe the highest score someone achieved was 8 points, I scored a respectable 5, which put me in the top third, I believe. (I should've had 6 points, really, that's what you get from doubting yourself after overhearing other people! Ahem!)
Glen Scotia
After the society tasting, a detour to the Cadenhead's shop was just what we needed. Lo and behold, I managed to find a bottle in the nearly depleted "cage" which was to my liking (a fresh bourbon Hazelburn), so I just had to rescue it! "Queue to adopt a bottle" should be the unofficial motto of this festival – some days people queued for hours before the shop even opened…! Now it was finally time to head over to Glen Scotia to collect the two ladies in our group who took part in a Glen Scotia warehouse tasting, and while we were there, we also got lunch and had to drink some … Arran beer! Barrel aged Arran beer from a champagne bottle! At the Glen Scotia open day! Ha! Got you again! Nothing against Glen Scotia – we just couldn't fit any of the events, which were announced long after the Springbank ones, into our schedule. Definitely a reason to return next year – I've been to Campbeltown twice now, and have never managed to explore Glen Scotia distillery. After finally finding the girls stumbling walking out of the warehouse, we had to get going to make our next event, one, which we've been waiting for a long time!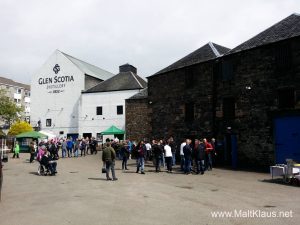 Campbeltown walking history tour (well, distillery history, anyway)
It always amazes me, how at one point, over 30 distilleries were operating, some of them door to door to each other, in a town as small as Campbeltown in the middle of nowhere (really!). Back then, travelling and shipping was done more by – literally – ships than roads, and Campbeltown sat in a perfect sheltered spot not far from Ireland. Glasgow, where the blending companies were, is also not too far by sea. Guiding us through the town and its history, was local Kate Watt, pointing out sometimes obvious, sometimes hidden, sometimes entirely gone places of distilling history to us. Oh, and there were drams, of course – just not out in the streets, which is illegal in Campbeltown, but rather on private ground – with distilling history, obviously. Kate is a great storyteller and it was fascinating to see the rich history of the town – including imagining all the distilleries dumping their effluent into the natural harbour before this was stopped and the now recreational site of Kinloch public park had been built. Oooft, that must've smelled bad back then, not exactly "good old times"!
After ending the walk in the Springbank courtyard (because someone forgot to keep the gate to Glengyle unlocked for us, ahem ahem!) our cottage group, the #referendrams, decided to stay for a while longer – the long walk (and, for some, the drams) was rather tiring! Since Campbeltown is a small place it didn't take long for Mark Watt "Mr. Cadenhead's" to appear, sitting down for a wee chat and pouring us a dram from his Sporran (A 1989 Strathisla, we appreciate the gesture and your time, Mark!). As guests for the official Springbank dinner started to appear in the courtyard (we couldn't get tickets for all of us, so we decided not to go), it was time for four of our group to leave for a separate dinner event at the Ardshiel hotel, while two abandoned us to go for Haggis Nachos instead.
Ardshiel dinner – and the rest!
Kindly organised by Johan, a select group of Springbank friends enjoyed a separate dinner event at the Ardshiel. Having had kind of underestimated the walking distance (and the walking capabilities of some of our group at that point!), we arrived last – but not really late! While we definitely enjoyed the company of many Springbank friends in the group, the entire table where we sat (not just us four) were left out and always a course behind, for some reason or another. At least the staff apologised for that – and we were served an extra dram of a "cage rescue" port matured Longrow on the house, which was a nice gesture. The food was very good too – when it finally arrived. It was a good dinner in the end, relaxed, amongst fellow Springbank lovers. Thanks again, Johan!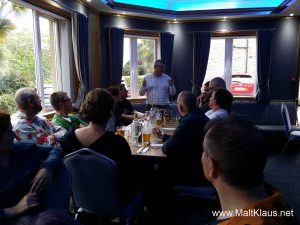 After our good three course meal, it was time to reunite the #referendrams group and since Florian and Stefan had gone to Paul McCartney's old regular pub, the Feathers, that's where we also went, accompanied and soon to be joined by a few more friends for an evening/night of singing, dancing and general shenanigans. Right, enough said about that #whathappensintheweetoonstaysintheweetoon – we had a blast!
Watch out for part 2 soon – there's more Campbeltown goodness and shenanigans yet to be told!