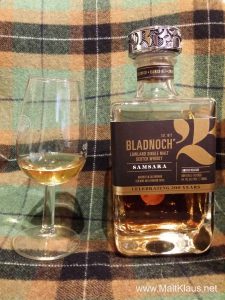 Dram data:
Distillery: Bladnoch
Bottler: Official bottling
Distilled: – (2009 or before)
Bottled: 25.04.2017
Age: NAS
Limitation: –
Casks: Californian red wine and bourbon casks
Alcohol: 46,7%
unchillfiltered / uncoloured
Whiskybase link
During the last 2 decades, the future of the lowlands Bladnoch distillery in Wigtown looked very grim – twice. Once before it was purchased by Irishman Raymond Armstrong and family (who initially wanted to turn it into housing) and for the second time when it went into receivership a few years back. It looked like it was gone for good – but then Australian yoghurt entrepreneur David Prior purchased the place – and is now essentially gutting the interiors, building a new distillery in the old buildings, to be restarted soon. To bide them over until they can sell their own spirit, they are tapping into the old stocks maturing at the distillery, made by either of the previous owners. This NAS "Samsara" expression is made up of stock distilled during the Armstrong era, making it at least 8 or 9 years old, as the distillery hasn't produced anything since 2009. I quite liked expressions created during the Armstrong ownership, so I'm curious to find out what the new owners have created from the old stock!

Tasting notes:
Colour: red gold
The nose is Bladnoch-y with a twist. It starts off fresh, with citrus, bananas, red and green apples showing off the spirit style. But there's more, the influence of the red wine casks is very apparent. Bitter grape peel, slightly acidic dry wine, wine gums, an old banana, green grass, sweat and spices – cinnamon and cloves. Hmmm. Hmmmm…. Wine maturation of whisky can go many ways, and while the wine casks don't overpower the distillery character, I've always found Bladnoch to work best in plain ex-bourbon casks or sometimes the odd sherry butt (the ones with quite a bit of sherry oomph). This feels like a whisky of two hearts, with the different flavour profiles almost fighting each other. Not bad, and there might be a few people who see themselves drawn to that style, but it doesn't really do it for me.Let's see if the palate is any different!. Quite full on the arrival, with an unexpected fruit sweetness mingling with the initial notes of red apples, pears and citrus. And then the wine casks kick in, again. quite dry, with grape peel, apple peel wine must which is about to ferment, wine gums and slight cask-derived spices (mostly cloves and some star anise). The wine casks are much more apparent on the palate now – and, again, they don't do the spirit any favours, it feels loose and disconnected. But, as I said, there might be people out there who like that style and I'm not the world's biggest fan of many (non-traditional like Port and Sherry) wine cask finishes/maturations. The medium-long finish is both dry and fruity (wine must sweetness) upon swallowing, with a LOT of wine cask influence. Dries down quite quickly to a dry ending with lingering notes of grape peel.
Verdict: Well, this is not a bad whisky, it's refreshing and on the light side, which makes it a nice sipper for hot summer evenings (as we're experiencing on the day of writing this review), but not much more than that. For me it has too much wine influence and too little Bladnoch in a weird "two hearts beating in my body" kind of way. I'm sure there will be people who like it (and even more liking the admittedly rather nice decanter), but, for me: Give me a good old, traditional, almost "boring" 100% ex-bourbon release next time, pretty please! Not my favourite expression from one of my favourite distilleries.
Score: 73/100

(Nose: 73 Palate: 73 Finish: 72)