Springbank Open Day
After an, err, somewhat late start to the day (see the previous post to find out the reason why) for some people in our cottage, it was time for us to head into town for the first time that day, to celebrate the act of… queuing for festival bottles! Hooray! Err… yeah, something like that. Why do all whisky festivals seem to revolve around queuing for bottles of whisky? And what a big queue it was for a "wee toon". As it turned out, we did not arrive a minute too early, and enduring a bit of a drizzle in between was worth it. Everybody in our group got the bottles we wanted, after being admitted into the tent of devil's juice by the head bouncer Mark! Glad we had Jo at hand to tease him into letting us in! Just as we grabbed our bottles and left the courtyard, the announcement of the first sold-out whisky (a triple-distilled Kilkerran) was made. Quite a few people missed out that day – and it's a bloody shame to see festival bottles bought by fierce killers ruthless flippers being flogged at auction by the time I'm writing this post in late June. Sign of the times, malt mates!
Since none of us in our group had anything on their agenda until late afternoon, not having gotten any tickets for the Springbank tastings, we drove back to our cottage to eat a full Scottish brunch. As you do.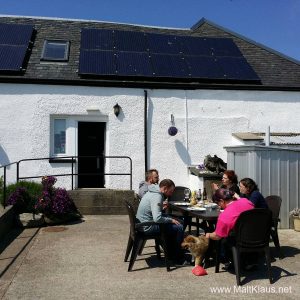 Taxi. TAXI. T-A-X-I !!!!!!!!
The weather had turned for the better and it was a beautiful, hot, sunny afternoon. Since our cottage was out in the sticks, we decided to seize the opportunity to walk off our very rich brunch und walk into town. Lacking a dedicated navigator, and slowed down by two Viennese boys in very primitive and unsuitable Austrian clothes very stylish Lederhosen, after about half the way it became apparent we wouldn't make it to our tasting in time. Having realised that early, Jo and I had already picked up our pace considerably and thought we were ahead, when, suddenly, a car whizzed by, carrying the other four people of our group. Apparently, Viva, the French woman, looked very irresistible as a hitchhiker! Being the ever helpful lady she is, Justine ambushed a taxi driver once she got into town and recruited him for a rescue mission to get Jo and my humble self. Well, thanks to her effort (no passing cars stopped for Jo and me – *sigh*) we arrived at our tasting with mere seconds to spare! Oooft! What an exciting way to start the day afternoon!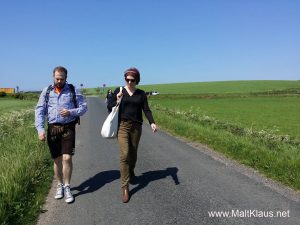 Cadenhead's Masterclass
Some people take the term "masterclass" very seriously, but when you're in the former Scottish whisky capital, at the anniversary of the oldest independent bottler, surrounded by whisky geeks and you've got Jenna McIntosh, Cameron McGeachy and Mark Watt presenting – well, you're not getting an ordinary masterclass. It's more like a whisky tasting amongst friends with loads of banter, jokes and heckling. Lots of heckling – with a lot of cheek coming back from "the man". The whiskies we got to taste were:
Glen Elgin 21 yo
Fettercairn 28 yo
Knockdhu 10 yo
Cameronbridge 33 yo (oh yum, what a dram!)
Laphroaig 25 yo
last but not least: A Littlemill, straight from the cask! A very typical, well-aged Littlemill, need I say more?
At the end of the tasting people were able to buy a bottle of the Littlemill, hand-drawn mouth-sucked from the cask by Mark and partner-in-crime Sweeney aka Cameron. Everybody (except for a few blood-sucking flippers) cheered, when they announced customisable labels for this year's bottling, where everybody had to could write their name on, to kinda, sorta prevent flipping. (A few still made their way to auction – but at least everybody who wanted one got a bottle, so I'm not too fussed about this one being sold on).
We had joy, we had fun, we had drams in the sun
After emerging from the malt floor, where the tasting had been held, it was an even more glorious day (I'm sure the drams helped!). Since none in our group managed to get tickets for any other event that day, we just enjoyed ourselves in the Springbank courtyard, sipping drams and beer and enjoying the local produce (burgers, yum!).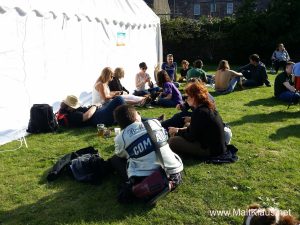 Later that afternoon the pipe band made an appearance – only to be outdone by malt mate Theo who had purchased the 21yo Open Day Springbank bottle and poured us drams – that bottled died there and then! That's the spirit, Theo, my man, cheers! It was a really glorious afternoon full of friendship, whisky and filled with the atmosphere of a great festival!
After having dinner and beers at the Black Sheep (Haggis Nachos and Scallops) our group got a taxi back to our cottage early, to have more beers, drams and conversations, getting ready for the big day which lay ahead of us next morning! But more about that later!