Just a few years ago, when I first travelled to Scotland, Fife was pretty much non-existent on modern whisky maps, even the rogue farm distillery at Daftmill was only known to a handful of geeks. These days it could count as a whisky region of its own, with quite a few new distilleries starting up. Amongst them is the first stop of the day for Jo and myself – Lindores Abbey.
Sit back, pour yourself a dram and join us on the journey!
Lindores Abbey
Et per liberacionem factam fratri Johanni Cor per preceptum compotorum rotulatoris, ut asserit, de mandato domini regis ad faciendum aquavite infra hoc compotum, viii bolle brasii.

"To Friar John Cor, 8 bolls of malt, wherewith to make aqua vitae for the King."
The date was 1st of June, 1494, and this phrase is to be found on a piece of parchment, an Exchequer Roll. It marks the first recorded history of distillation of "aqua vitae" in Scotland, the "water of life", the unaged equivalent of what we call "new make" today before it goes into casks.
523 years later, to the day, Jo and I are given a very warm welcome by Drew McKenzie Smith, Managing Director and Gary, distillery manager, at the gates of the former Lindores Abbey on Lindores Farm, in the possession of Drew's family for over 100 years. Distillation is about to be resumed at the time of writing (August 2017), at what they call the "spiritual home of Scotch Whisky". Now, we've seen a lot of new distillery projects these past few years and everybody tries to find a unique story, a unique selling point, some so far-fetched it's borderline comical, but the same can not be said about this place. Actually, the project has been (on and off) in the making for many years, way before the current distillery boom had started.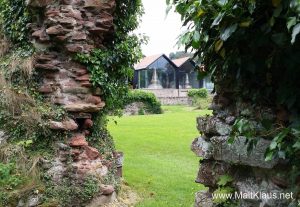 The new distillery is being built across the road from the abbey's remains, where formerly farm buildings – built from Abbey stone – stood. It might not be visible anymore today, but digs carried out when constructing the distillery, revealed the ground where the distillery now stands once was part of the abbey itself, which was founded in 1191 by Benedictine monks from the Order of Tiron. The monks were known for medicinal skills and horticulture and the abbey grounds once were home to an impressive orchard – about 3000 fruit trees can still be found in town, originating from the Abbey's orchards. Now, why is this important? Every new distillery project needs an income stream before they can sell whisky after a minimum waiting time of three years and a day. Many sell products like gin, vodka or young whisky, or even new make. Drew's vision for Lindores is slightly different and a clever integration of the site's heritage: He plans to sell aqua vitae, which once was new make improved with all sorts of herbs (and honey). The visitor's centre will feature an apothecary where visitors will be able to create their own version of it, with Lindores new make and selected (some even locally grown) herbs. They also plan on selling a commercial aqua vitae. Depending on how their own spirit matures and how well sales of the spirit product are, the first whisky release is planned to occur at about 5 years of age. The sale of aqua vitae is not the only homage to the distillery's past, there will be a refactorium, used as a dining area, with huge, rustic oak banquet tables, for instance, and more details for visitors to explore during a visit.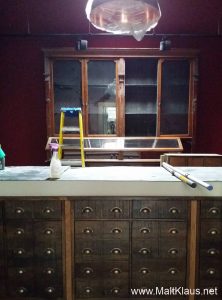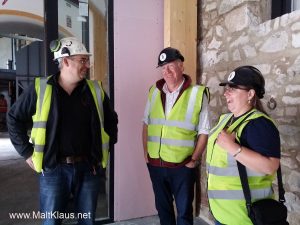 Now, with such a history, it could easily end up being over the top on the folklore, of which there is plenty. As passionate as Drew is when he talks about the Abbey and the history of the place, he is also at least equally passionate about the spirit they are about to make. Until his untimely demise, the renowned expert Jim Swan consulted the building of the distillery to ensure a quality end product would be created. Drew and Gary are determined to carry out his vision for the place and put the quality of the product first. As Drew explained, the distillery will also provide funds to preserve the Abbey's ruins – and only a successful commercial operation, relying on a quality product will be able to do that. I for myself am looking forward to trying what they are about to make!
Speaking of which, how will the new make – and the whisky – be produced at Lindores Abbey? To find out, we were shown around the construction site with Gary explaining the more technical details. My first distillery tour in a hard top hat!
The raw product, barley for malting, will be from the Fife area, some of it grown locally right next to the distillery. That's also where the "holy burn" flows (If you get to meet Drew, ask him about him trying to trademark that name). The burn won't provide the production water directly, but a large bore hole right next to it will ensure ample supply of fresh production water.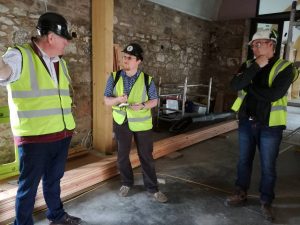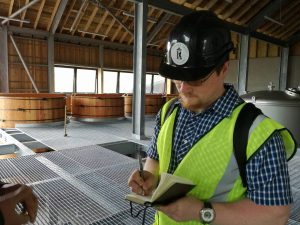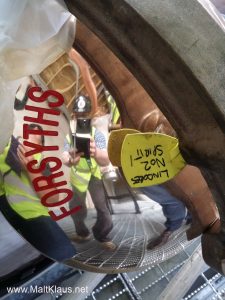 The 2-tonne semi-lauter mashtun will provide four mashes per week, fermented for 72 and 96 hours in the four wooden washbacks – with space in the production building to add more washbacks in the future, if needed. For now, the capacity will be about 150.000 litres per year, which puts it in the same league as Kilchoman on Islay, another project Jim Swan was involved with.The stills, one wash still and two spirit stills, are rather long with narrow necks to ensure a rather light, trickle-distilled, Lowland-style spirit. The first 1500 casks will be matured on site in the site of the old cattle shed – and that's where Drew and Gary had a surprise waiting for us. One of Jim Swan's best-known distillery involvements is, without a doubt, Kavalan in Taiwan. His idea for Lindores Abbey was to recreate the maturation climate of Taiwan at Lindores – a heated warehouse, so to speak. In the end, the majority of the warehouse is now just a regular dunnage warehouse, but in homage to Jim Swan they have created a separate, heatable area, where they could try his vision. At the time of my visit they were looking into that option – but only if the heating costs allowed for it. Time will tell if they pursue Jim's idea – at least a small portion of it.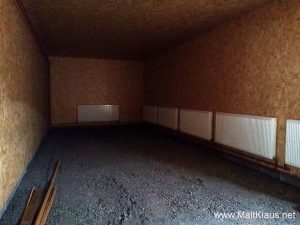 Experiments could be aplenty at Lindores, not only in regards to the unique aqua vitae being produced. A PhD thesis found two strains of local yeast, which together with the barley grown on site, could make for some interesting products in the future. The same goes for producing batches of peated whisky – but that's really what it is – ideas they can play around with if and when that time comes.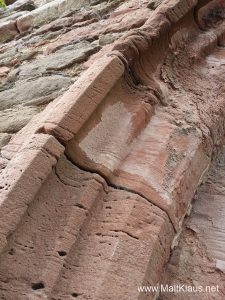 With the distillery tour concluded, it was time to head to the remains of the Abbey, which Drew had a lot of fascinating stories to talk about, having grown up on the site. Gary, the distillery manager, had already left us at that point – he had a construction site to attend to, after all, and we had taken up plenty of his time. When it was finally time to part ways, after a few hours on site, I had one last question for Drew: What's his vision for Lindores Abbey distillery, what does he want it to be known for? His response was two-fold: The official way to put it was for it to be the "spiritual home for Scotch Whisky", but he was quick to add "that sounds corny". In the end Drew proclaimed he wants to "do right by these guys", meaning the vision Jim Swan had for the place and also citing whisky writer Michael Jackson, who also wrote about the place back in his day. Well, I'd say that's a good motto and inspiration – best of luck to Drew, Gary and team, you've got something special in the making and not just due to the heritage!
Eden Mill St. Andrews
Leaving Lindores Abbey with a full notebook, our heads spinning and our hearts warmed, the next destination for Jo and myself couldn't have been any more different: We had an appointment at Eden Mill distillery (and brewery) in St. Andrews, with distiller Marc, who contacted me on twitter and invited me to take a look at their place, having noticed I was in the area.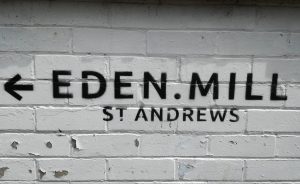 Now, how to describe the brewery and distillery (it is both and parts of the equipment are shared) adequately? It is situated in a former industrial site and space is currently at a premium, so stuff is literally everywhere. Not what you would call picturesque – but practical and it works, which is the main thing anyway, right? Let's call it charmingly disorganised, yes, that works!
Marc showed us around the production area and was quick to point out that their current distillation setup, which they use to make both whisky and gin, is only temporary. They are in their experimentation phase, trying different styles, casks (currently about 20 different types) and other parameters, hoping to have everything dialled in by about 2020, which is when they hope to move into bigger premises on the lot, with a new and bigger setup. Currently they are using three cheap 1000-liter gin stills which will be run down and scrapped by the time they are moving. While the stills are an unusual shape for distilling whisky, they certainly work and the new make tasted very clean and sweet with a slightly green character. I've tasted much worse new make from "real" whisky stills. That reminds me, I have a sample of their new make here, which I will have to get to one day.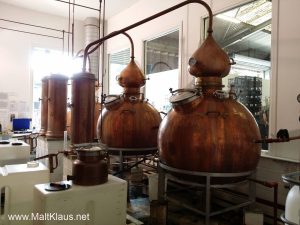 One point of experimentation for them is malt. Using peated malt, pale malt, crystal malt and brown malt – easy to do when you also run a brewery on site – they are experimenting with a factor which I find to be completely neglected by most commercial distilleries, where the focus is not on the flavour provided by the malt, but just purely on getting as much fermentable sugars from the grain as possible. It's refreshing to see a distillery experimenting with these variables.
Current output of whisky production is at about 30 barrels per month (200 litres per distillation run), which Eden Mill is looking to improve to about 12 hogsheads a week with the new setup – which would put it at about the same yearly capacity as Lindores Abbey.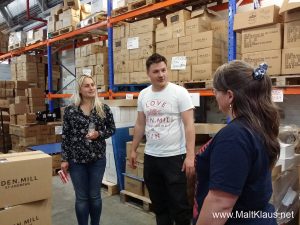 Meeting up with brand ambassador Lara we passed through the storage and bottling area, where employees were busy bottling the product they are probably most known for at the moment – gin. Moving on to the tap room, we just had to taste a few things. As you do. First up was a 5 yo blend, which they bought in already blended and "finished" on site. No notes on that one, however, I remember it to be quite decent. My eyes were already on what we got next – a two-year-old spirit sample, a glimpse at what is to become whisky. Distilled from Pale Malt, Crystal malt and Brown malt and matured in American virgin oak quarter casks, the spirit, quite a bit on the dry side, featured notes of dusty spices, chocolate and coffee. A short finish, but quite drinkable and nice for a 2-year-old spirit. It probably won't be a good idea to keep it in these fresh, active, small casks for a long time, but it worked so far. (edit: how perceptions can change due to tasting locations – click here for my in-depth review in my usual neutral tasting setting)The first release of whisky is planned to be out in the first half of 2018 – it'll be interesting to see how it progresses, especially with all these different mashbills and cask types!
Having spent the better part of a day touring two very different distilleries in Fife, it was time to head back to Wishaw for a special evening date!
Artisan Restaurant, Wishaw
Wishaw is a bit of a rough place in between Glasgow and Edinburgh, but it does have a very appealing attraction for whisky fans: The Artisan restaurant, run by Derek and Fiona Mather. A Mekka for whisky drinkers, featuring the biggest selection of open bottles I have ever seen in any bar and that's where Jo and I were headed, to meet Laura and Erik Burgess for dinner and drams.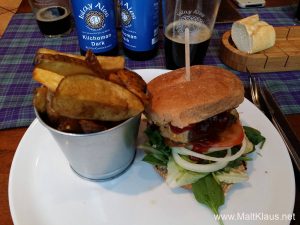 What other choice was there than to have a fabulous Octomore burger, made from beef from Octomore farm on Islay? It went down even better with a Kilchoman dark ale from the Islay brewery, before malted talks commenced in the "laddie snug". Due to the moderate whisky prices, a 1986 Bladnoch and a 1972 Convalmore were my choices for desert – and the great company made for a wonderful last evening in Scotland before we left for the south of England the next morning.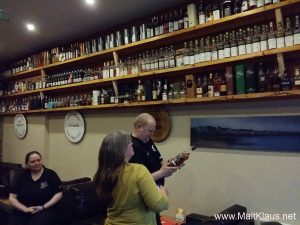 House of Malt, Carlisle
Having left Wishaw in Maizy, Jo's sports car, early in the morning, our first and most important stop of the day was just south of the Scottish border in Carlisle, where Mike Little invited us to pop by the "House of Malt" whisky shop to meet him, Ben and the entire gang – and played a practical joke on me. He dared me to try a Lakes distillery bottling. I don't know if it was a whisky from a Port or Sherry cask, but it tasted like having matured in a downright rank cask…. ooooft! Thankfully he had something else at hand to wash it down and get that taste out of my mouth (a rather good bourbon which I can't remember…)! I am very tolerant when it comes to weird whiskies, but that one was one step too far for me. Well played, mate – and thank you for not filming my reaction to that whisky for your Youtube show! Thanks for the liquid breakfast, guys, good to meet the gang! If you're in Carlisle, do pop by, they have a nice selection of malts – and can also be found online. Just avoid that Lakes bottling, tee hee!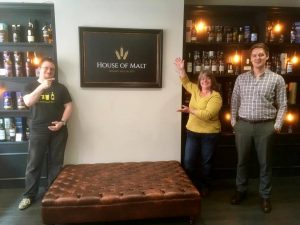 From then on, everything went south. Literally. It started to rain, we had to navigate around traffic congestions on the motorways, have tea in a garden center (that part was rather enjoyable), but in the end we made it back to Gloucestershire come dinner time after a total of 1808 miles on the road. Words can't express my gratitude for my dear friend and designated driver Jo for joining me on this 2017 Scotland whisky roadtrip, which took us from the South of England all the way to Campbeltown, the Orkneys and back again. We had a blast! Meeting friends both old and new, visiting places, experiencing the tightly knit web of friendship created by the #whiskyfabric
Scotland, I will be back!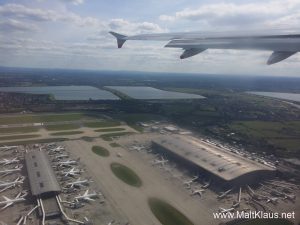 Thanks for following our journey. If you have missed past instalments, you will find all of them in this section. If you like the series, please subscribe and share – also on Facebook and Twitter – and leave a comment below. Thanks a bunch!
Compliance notice: We visited both distilleries and the House of Malt by invitation, with full editorial control over the article retained and all travel and related expenses paid for by myself.