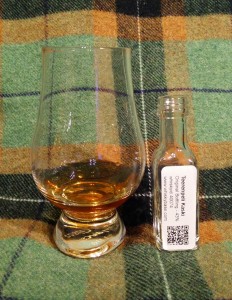 Dram data:
Distillery: Teerenpeli
Bottler: Official Bottling
Distilled: –
Bottled: 2013 (500ml bottles!)
Age: NAS
Limitation: –
Casks: Ex-Sherry
Alcohol: 43%
unchillfiltered; natural colour
Whiskybase link
Tasting notes:
Colour: amber
The nose opens like a true sherry bomb. Sherry, sherry, sherry. Wood influence with dark spices (cloves, aniseed, cinnamon sticks) in the background – I'm going with European oak here. Burnt fudge and fermented, dried dark fruits (if that makes any sense…). No distillery character, it's all been taken over by very active wood with loads of sherry remnants. One-sided and not overly complex. On to the palate then. Well, quite similar at first glance. Very active european oak, introducing spices (once again, cloves, cinnamon, aniseed, also some fennel) with loads of sherry left over. Quite a bit sweeter than the nose, though, with caramel, dark milk chocolate, dried dates, figs, raisins, roasted nuts. Completely driven by oak and sherry yet what remains of the distillate feels quite young – not rough, just a bit young with not too much subtractive maturation having taken place.  The finish feels a bit odd. Upon swallowing it is creamy and sweet with loads of sweet sherry, spices and dark fruits yet I feel it is more the sherry carrying the aromas than the distillate. Noticeable traces of woodsap in the aftertaste.
Verdict:
A pretty young and unassuming distillate meets very active european oak casks infused with loads and loads of sherry. Quite quaffable and nicely drinkable, albeit at a steep price at currently 60-80€ for 500ml of young malt.
I'm looking forward to seeing more from this Finnish distillery – preferably with a bit more distillery character and slightly toned down sherry influence, but that's just my opinion now…
Score: 81/100
(Nose: 80 Palate: 81 Finish: 80)