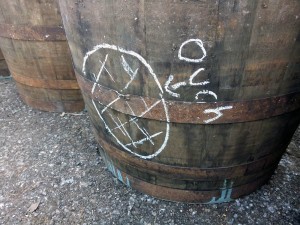 I don't often feel inclined to post a short opinion piece, but I just had lunch and sat down with a cup of coffee in front of my computer to look at new arrivals at whisky shops. That's when I saw the new Highland Park ICE on offer. Let's put it that way: Coffee stains on my keyboard and screen when I saw the price.
Highland Park ICE. The latest instalment of Highland Park's highly collectible series of whiskies. There are 30.000(!!!) bottles worldwide. That's hardly "limited" by any standard, most distilleries have much smaller batches with their regular bottlings.
In essence it is 17-year-old whisky, selling at 350€ a bottle. 350€! Their very good standard 18 year-old is already sold at a steep price – and it's "only" 100-125€. If you're lucky, you can get four bottles on offer for the price of one bottle of this new limited edition.
I am scratching my head here. Did I miss something? Is Highland Park a lost distillery, closed for 10 years or longer? Is there a pure gold stopper on the bottle? Or did the queen sign them? Or perhaps the queen's poodle sniffed the vatting tank? What's the heck is going on here?
In my opinion this bottling is displaying everything that's wrong with the whisky industry right now. It will be talked about not only amongst whisky enthusiasts (heck, I'm even giving them publicity here, even if it's more of a rant so I too fell into the trap…).  It is one of many puzzle pieces as of late changing public perception of whisky being that of an elite luxury, a dream only rich can fulfill, worse, a snobist's tipple. Whisky used to be a tipple of which nearly everyone could afford a "special" bottle for special occasions. These days the market is increasingly divided.
I have to congratulate Highland Park and their marketing team for pulling it off, though, and I'm dead serious about this. It takes skill, a great reputation, a large following of collectors and devotees, predecessor bottlings which are highly sought after and a superheated market to be able to place a bottle of whisky in pretty high volume at such a price level. Not everyone can do it and I'm sure it will be a quick sell-out.
Don't get me wrong, I'm sure it's a lovely dram and if you head out to buy and enjoy it – good on ya, no envy involved, enjoy it with a few mates as intended. But, in the end, it's still "just" a very big batch (30.000 bottles amounts to roughly 150(!) barrels at 200 bottles each) of 17yo ex-bourbon matured whisky that isn't any more expensive to produce than the standard expressions (except for a few additional coins for the admittedly very nice packaging – which you can't drink).
But, in the end, when you look at it from a distance, it's just another sign of how superheated and completely over the top a portion of today's whisky market is and it makes me wonder whether we're getting close to the ceiling or if there's still loads of head space to trump it in the upcoming years…