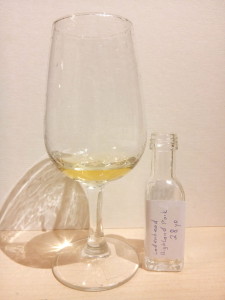 Dram data:
Distillery: Highland Park
Bottler: Cadenhead
Distilled: 1985
Bottled: 2013
Age: 28 years
Limitation: 242
Price at the time of purchasing: – (official price: about 220€)
Casks: Bourbon Hogshead
Alcohol: 48,3%
Unchillfiltered, no added colouring
Whiskybase link
Tasting notes:
Colour: Straw. On the nose I'm immediately greeted by a warm, sweet load of peat smoke. The greeting is followed by floral notes – violets to be precise. Never nosed these in a whisky before. There's some vanilla, lemon rind, sweet pudding, hints of white pepper, wood spices and (fresh) leather. Very different from the (official) Highland Parks I've tried so far. On the extremely mouth-watering palate – it practically dilutes itself in the mouth – there's liquorice, gummi bears, more vanilla pudding, more floral notes (think a flower bed in the summer), orange juice combined with spices, waxy, oily notes and a well-integrated peatiness in the background. At the same time it is very rounded and mellow, no harshness whatsoever. The finish is medium long, full, spicy, vanilla sweet and lingering – surprisingly with not much oak appearing despite its age.
Verdict:
I wish I had more of this. I was poured a complimentary dram by Cadenhead's own Grant Macpherson at the Whisky Festival in Linz, Austria last month and after taking a good nose and sip I had to decant it into a sample bottle and take it home for a thorough tasting. I'm glad I did so. This is a very unusual, gentle, floral, mouth-watering vanilla pudding-sweet yet oily and waxy bottling of Highland Park and a prime example how we get to taste very different things thanks to the independent bottlers. At roughly 220€ it is no bargain – but compared to the official bottlings of this age it's quite a bit cheaper. I'll have to think hard about getting one as indie bottlings of HP are getting rarer and rarer…
Score: 89/100