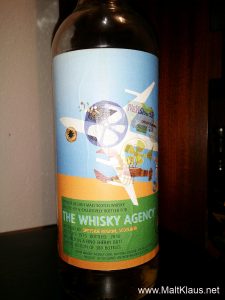 Dram data:
Distillery: undisclosed
Bottler: The Whisky Agency
Distilled: 1975
Bottled: 2016
Age: 40 years
Limitation: 389
Casks: Fino Sherry Butt
Alcohol: 55%
unchillfiltered; uncoloured
Whiskybase link
When you get the chance to taste a stunning dram like this one, you better bring your tasting notebook with you! Because it was originally handwritten, this review is slightly shorter than the usual ones, but I'll try to keep it interesting nonetheless!

Tasting notes:
Colour: gold
The nose promises great things right from the first contact. Deep and rich, with old, sweet tropical fruits. We've got Mango, papaya, dried apricots, all stored on the oak shelving of an old-style Scottish candy shop with un-lit beeswax candles being stored nearby. Very rich, dense and interwoven, a style only lots and lots of time and a good cask can create.
The palate is even better! Dry and sweet at the same time on the arrival, very mouth-coating, oily. Teeth-coating too! The same incredibly rich, dense, old, fruity style as the nose floods the mouth. We've got dried oranges, mango and papaya, paired with wine gum. The old sweet shop oak shelving is back, too, so is the beeswax, accompanied by a hint of propolis. Impossible dense and thick, you don't want to swallow, you want it to last forever! The long finish has a hint of alcohol upon swallowing. Initially dry, with oak and slight tropical fruits with beeswax. Slightly thinner than nose and palate.
Verdict:
Mmmmhhh…. what a dram! My preferred style of whisky, if I was forced to name one! Good distillate (can you say Glenf….as?), good wood, and time. Loads of it. Decades! The result is a thick, syrupy, complex, dram with not too much wood (hooray!) and an intense tropical fruitiness. Very good indeed, with the only downside being an ever so slightly weaker finish. At about 350€, when it was released, also a very good price! Good luck hunting one down…
Once again, please excuse the slightly less elaborate tasting notes as usual, due to them being handwritten at the time of tasting.
Score: 91/100
(Nose: 92 Palate: 93 Finish: 89)
Whisky tasted at the "MMA 2016 dregs party from hell"