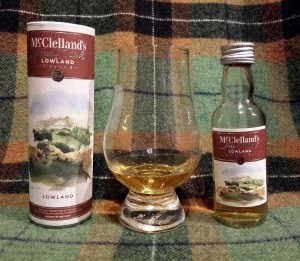 Dram data:
Distillery: undisclosed Auchentoshan
Bottler: Mc Clelland's (Morrison Bowmore)
Distilled: –
Bottled: 2015-ish
Age: NAS
Limitation: –
Casks: –
Alcohol: 40%
chill filtered; coloured
Whiskybase link
Tasting notes:
Colour: E150a gold
The nose starts off slightly alcoholic, even at 40% ABV. Ah well, it's a young malt, it is. The aroma is rather generic and a bit boring – vanilla, malt, caramel, dried oranges, custard, a hint of chocolate spices and yeast – rinse and repeat. No off notes (unless you count the alcohol which might only appear so strong because the aroma is rather weak). Very likeable and unobtrusive, just not very engaging, that's all. The palate is light, as expected, but not too watery, and it coats the entire mouth (which I really appreciate in a dram). Tastes more like 43% ABV than 40. Vanilla, custard, malty sweetness, orange juice, orange oil, sweet pears, red juicy apples and a slight bitter note. Just like the palate very generic but no obvious fault or off-note to be found. The medium long finish is gentle with a malty-sweet/slightly bitter "green" combination upon swallowing getting slightly dry with a light oak note at the end.
Verdict:
This undisclosed budget-priced Auchentoshan turned out to be a very likeable malt without faults, to be honest, which I didn't really expect. Well, it's young, light vanilla-sweet and a tad generic but that doesn't always have to be a bad thing. There are many distilleries these days selling their new entry-level NAS drams with the same taste profile for much more money…
The perfect bottle to keep around for visitors who don't really drink whisky or for introducing friends to the amber nectar, or just for casual sipping, really. Or, dare I say it, a fine cheap malt for blending experiments and mixing – and I mean that in a good way, since I am against using "bad" whisky for cocktails – it shows!
Score: 76/100
(Nose: 75 Palate: 76 Finish: 75)