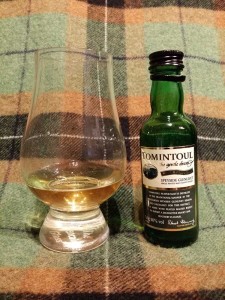 Dram data:
Distillery: Tomintoul
Bottler: Original Bottling
Distilled: –
Bottled: 04.03.2014 (14/02072)
Age: NAS
Limitation: –
Casks: –
Alcohol: 40%
chill filtered; coloured
Whiskybase link
Tasting notes:
Colour: light gold
The nose starts with a quite noticeable level of fragrant peat smoke – quite sweet (malt sweetness mixed with brown sugar) and mingled with notes of vanilla, custard, heather, sweet flowers and orange blossoms. Quite light and pleasing, designed not to overwhelm.

The palate is light and watery on the arrival, you can tell this has been designed for the casual malt drinker, who, so the industry seems to think, likes a light, pleasing, quaffable and by no means alcoholic dram. Very noticeable peat smoke – but, again, rather pleasing and not offending, this is by no means even near the lightest Islay levels. Underneath the peat smoke there's vanilla with a malty/brown sugar sweetness, green "heather" notes and a rather displeasing bitter/dry note – metallic youth as some call it. It's not apparent when you just sip the whisky, but is very noticeable when you dissect it, getting even stronger on the second taste. Not sure whether this affects just this one batch, but it is there. The medium long finish, which is rather dry, is dominated by the peat smoke and a light custard sweetness.

Verdict:
I'm quite a bit diappointed. This Tomintoul "with a peaty tang" is a very light, well-peated dram, but very generic too. Judging from the off-notes I got on the palate this is a very young malt, matured in ex-bourbon casks with quite a bit of refill wood in the mix and designed to please the budget-oriented supermarket customer not overwhelming this clientele with too much alcohol or complexity of flavours. Not one I will rush out to buy a full-sized bottle of, I'm afraid, I will re-taste it though when I get the chance to, so see whether the profile on the palate is a feature or just a batch variation thing.
Score: 69/100
(Nose: 75 Palate: 65 Finish: 73)