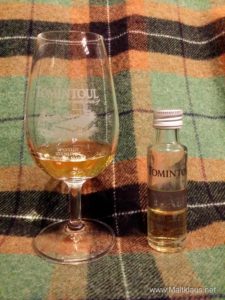 Dram data:
Distillery: Tomintoul
Bottler: original bottling
Distilled: –
Bottled: 2016
Age: NAS
Limitation: –
Casks: American oak
Alcohol: 40%
chill filtered/unknown colouring status
Whiskybase link
When the press release for the Tomintoul Tlàth (which translates to gentle, mellow) hit my inbox, something caught my eye. These past few years distilleries seemingly seemed to battle out a competition on who could do the most finishes, find the most extravagant casks and come up with all kinds of nonsensical tweaks of the whisky theme. Not this one, it is plain and simple, a "collection […] of whiskies of various ages matured in first-class American oak bourbon barrels". My preferred style of Scotch. And attached with it: No far-fetched story, no flannel and a "daily dram" worthy price tag of about 30 GBP/39€ (I've seen street prices announced for less than that). Yes, it's NAS (no age statement), but we'll see whether it's one of the good ones. Let's dig in!
Tasting notes:
Colour: gold
The nose fits the "the gentle dram" tagline. A slight alcoholic hint up front which disappears quickly revealing notes of citrus and orange with a touch of menthol, sugar-reduced cake frosting with a dash of lemon juice in it, a sneaky lychee, gooseberry and a slice of apricot with a mixture of vanilla and caramel pudding in the background (not too loud on the vanilla). We've got 20°C inside – this works quite well. Light, fresh and young-ish, but with a twist to keep it interesting. Please keep this profile up on the palate! Quite light on the arrival, but it develops nicely after a few seconds. Surprisingly creamy and mouth-coating, despite a light and fresh profile and the 40% ABV. Diluted citrus-infused cake frosting (not too sweet, thank god, in fact, surprisingly un-sweet!), mixed juice of pear, a lychee and an apricot served on vanilla-reduced vanilla pudding (hey, is this your first dram tonight?) with a sneaky toffee chucked into the pudding-making process. After half a minute or so a background maltiness and a hint of mineral notes appear. One of few whiskies where I don't mind the 40% ABV bottling strength, this doesn't feel "watered down". The medium long finish is slightly zesty and spicy with a touch of sweetness upon swallowing (hello sugar-reduced citrus-added cake frosting) mellowing down nicely with a few light fruits, malt and unobtrusive vanilla appearing down the line.
Verdict:
Well, that went just as expected. Which is a good thing, a very good one! Tomintoul didn't feel the need to come up with a fancy, fabricated (or, at least, heavily bent) story to sell this whisky. Use a mixture of American oak ex-bourbon barrels (let's assume this does indeed refer to the actual cask size and is not used synonymously with "cask"), both refill and fresh (that's my interpretation based on tasting it) and of different ages and make it interesting enough not to fall into the usual "light, vanilla, citrus, vanilla, coconut – boring" scheme and you've got a pretty solid, light summer malt. While, of course, neither super-intense nor super-old (which it doesn't claim to be) I find this much more enjoyable and interesting than some of the "big brand" Speyside malts with similar flavour profiles at a comparable price range found in supermarkets all over the world. Daily summer dram not breaking the bank? Check! A nice addition to – and hopefully not a replacement for (part of) their age-statement lineup!
Score: 82/100
(Nose: 83 Palate: 82 Finish: 82)
Thanks to Tomintoul / Angus Dundee Distillers for sending over the tasting sample!