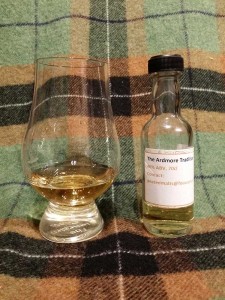 Dram data:
Distillery: Ardmore
Bottler: official bottling
Distilled: –
Bottled: 2015
Age: NAS
Limitation: –
Casks: Quarter cask finish
Alcohol: 46%
Unchillfiltered, coloured
Whiskybase link
Tasting notes:
Colour: gold
The nose opens with a fragrant waft of peat smoke – not an in-your-face Islay peat monster, but a very noticeable, yet refined peat bonfire smoke. Unterneath the peat there's… alcohol and menthol. I guess I'll let it breathe for a bit. Right, back to work, err, nosing: Vanilla, light honey, orange juice and oil, ginger, white pepper. Quite light with dominating alcohol – not quite the depth I remember from the old and discontinued traditional cask. The palate has light and fragrant peat on the arrival with very typical vanilla pudding sweetness from american oak casks. Oily and mouth-coating. There are also notes of orange juice, mixed tinned fruits, smoked lychee water, caramel, hints of cocoa and coffee beans as well as orange gummi bears. The medium long to long finish is just slightly nippy upon swallowing with an immediate custard sweetness paired with fragrant smoke, slight spices and tinned fruit water. Maybe an idea of oak in the aftertaste.
Verdict:
When the Ardmore Traditional Oak was discontinued there was a big outcry in the whisky community. It was a budget-priced malt of great qualities  – nicely peated and finished in quarter casks, adding depth and flavour. True bang-for-the-buck juice. Well, now it is back, under the name "Ardmore Tradition", in a litre bottle – sadly (generally) only available via travel retail, still for a good price, still un-chillfiltered and bottled at 46% ABV, yay!
All in all it's a more than "just fine" daily dram, accessible, smoky, fragrant and on the sweet side without any apparent flaws. Yet somehow I miss some of the darker notes and depth of the older bottling, it feels and tastes younger despite the officially unchanged profile. Well, it could just be due to batch differences, too, as the one I last tasted was bottled in 2011… In the distillery's new lineup I prefer their Port-finished 12-year-old.
Score: 83/100
(Nose: 82 Palate: 84 Finish: 85)
Thanks to The Ardmore and Steve @ The Whisky Wire for the sample as part of the tweet tasting!