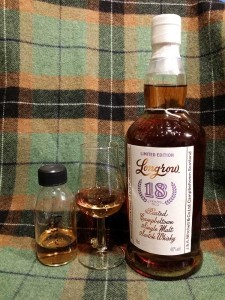 Dram data:
Distillery: Springbank
Bottler: Original Bottling
Distilled: –
Bottled: 2014
Age: 18 years
Limitation: –
Casks: (mostly?) Ex-Sherry
Alcohol: 46%
unchillfiltered; natural colour
Whiskybase link
Tasting notes:
Colour: amber
The nose just immediately makes me smile, which is usually a very good sign. A dark and layered dram. Let's search for the peat first. Longrow peat levels can vary, as it's a purely manual process on the traditional malt floors and aging for 18+ years does reduce the smoke levels. Just a hint of aromatic peat remains – blending in with cask spices and dark sherry notes. Salted toffee, treacle, dark milk chocolate, coffee beans, cocoa beans, vanilla pods with the innards scraped out, old leather jacket in granny's wardrobe, a concentrate of very dry dark fruits (raisins, dates, plums). Not too sweet though, there's also a dry sherry component (Oloroso?). This is pure, sexy, no-frills style.

Not a modern, engineered, honed dram, no, you can taste the manual labor and distillation in an old-fashioned direct-fired low-wines still. Real whisky, not the stuff made to fit marketing department's needs after researching the current metrosexual men's lifestyle magazine market needs. Oh, sorry, got a bit carried away there, that's what really good whisky does to me at times… On to the palate then. Elegance. The elegance and temptation of a sweet young lady paired with the grace of a diva. Oily and mouth-coating with very well-integrated alcohol. Light smoke on a mixed dried dark fruit puree, treacle, toffee, caramel, dark chocolate with chili bits, wax, nutmeg, fragrant oak, old leather, coffee beans, caramelised ginger, a pinch of pepper, wood-aged kirsch and a dry Oloroso note. Exquisite. The long finish is sweet, oily and silky upon swallowing, layered and dark, gliding down the throat ever so gracefully, drying down a bit and doing so revealing a slight hint of peat smoke and oak.
Verdict:
Only some 10.000 litres of Longrow type spirit are made at the Springbank distillery each year, can you imagine that? That's roughly 1/10th of Kilchoman's yearly output and those guys are teeny tiny. A few casks make it to the ripe old age of 18+ years, and my oh my, this pays off! The peat is nearly gone (which is about the only gripe I have with it, if I really wanted to search for one), but everything else is superb! This really is proper, old-style, no frills (mostly?) ex-sherry matured whisky, made by hand in a working museum, filled into great wood and carefully looked after. A very sexy dram in a Marilyn Monroe class kinda way.
Score: 92/100
(Nose: 92 Palate: 93 Finish: 92)
The sample for tasting was kindly provided by Cadenhead's Whisky Market Austria. Cheers!