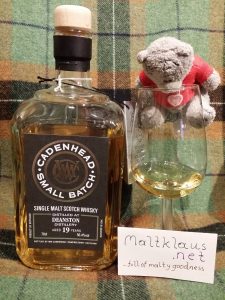 Dram data:
Distillery: Deanston
Bottler: Cadenhead's
Distilled: 1994
Bottled: 2014
Age: 19 years
Limitation: 846 bottles
Casks: Butts
Alcohol: 56,4%
uncoloured / unchillfiltered
Whiskybase link
I guess everybody has one – a distillery whose products they're struggling with. There are very few of them – but Deanston is amongst them. It's hard for me to find a Deanston malt that "connects" with me – for whatever reason. So what drove me to purchase this bottling by Cadenhead's? Don't remember! Let's see if this is a Deanston malt that "works" for me…

Tasting notes:
Colour: dark straw
The nose is pretty light – second fill butts were probably used for maturation. We're greeted by lemon, citrus peel, a whiff of alcohol, unripe grapes and grape seeds on a bed of candyfloss. A mix of limoncello and grappa, perhaps – aged in oak barrels. After 19 years this is still rather spirit-driven, which is not a bad thing unless you're expecting a sherry bomb. Let it sit for quite a while and more subtle nuances appear, together with a grape and apricot sweetness and fruitiness. Not a dram to be rushed. Quite good so far – let's see if it's the same on the palate! 
Quite robust on the arrival with lemon, pepper, chilli and noticeable alcohol. At the same time, a candyfloss sweetness fills the entire mouth, with grape juice and noticeable grape seeds following soon thereafter. Limoncello and grappa, as I said before. The second sip is tamed quite a bit, but it still packs a punch. Now the apricots are back and a grassiness appears. Again, a spirit-driven dram, well-supported by the casks. The medium-long finish is well in line with nose and palate – sugar sweetness, grape juice, grape seeds, lemon and a touch of pepper upon swallowing and it fades away gracefully developing a hint of grassiness.
Verdict: Yep, a more than decent Deanston, actually, a rather good Deanston – keeping the influence of the spirit alive, but letting the casks do their share of work without overpowering the distillate. Not an easy whisky, this is a rather intellectual dram, requiring time and patience. Looking at my own little neck tag I see I paid 57€ for this in 2015, a rather fair price, I have to say…
Do you have a distillery whose products you find yourself struggling with? Let me know in the comments section below!
Score: 84/100
(Nose: 84 Palate: 85 Finish: 84)
Click here to see all the Deanston expressions I've tried so far