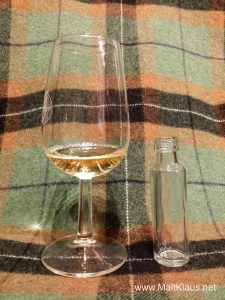 Dram data:
Distillery: Glenlivet
Bottler: Official Bottling
Distilled: –
Bottled: June 2014
Age: 16 years
Limitation: –
Casks: 1st fill ex-bourbon
Alcohol: 55,2%
unchillfiltered and uncoloured
Whiskybase link
Oh, a mystery whisky! I love tasting mystery whiskies – even if there's a chance I'll make an utter fool of myself, but that's part of the game! Let's dig in!
Tasting notes:
Colour: apple juice
The nose is pleasant and light on the first nose with a hint of alcohol dominating. Light vanilla, red apples and red pears, strawberries, dried pineapple, summer honey, candyfloss and dextrose sugar pieces for athletes with added lemon aroma and heather tips. With time and careful nosing there's quite a lot going on here, creating a summer-dram profile. Not too much oak influence, if you asked me I'd put this at about 10 years. My first intuition says Highlands (or maybe Speyside). A very clean and unobtrusive style of whisky – a Glenmorangie with more oomph than the 10yo or a slightly richer Glenlivet? Something along those lines. Even if it's not, that's what it reminds me of and it smells familiar. Definitely modern whisky and I'm 99,9% sure it's Scotch malt whisky (leaving a tiny margin of error open, because, well, you never know, blind tastings are funny things). On to the palate now! Same general profile, but it has more oomph than standard bottlings, about 50% ABV perhaps? Light, creamy, mouth-coating with summer fruits dominating. Vanilla up front, red apples, red pears (including slightly bitter peel and seeds), a retronasal whiff of yeast and pleasant grassy notes, dried mango and pineapple, dextrose with orange aroma. The oak provides a noticeably fragrant base layer, without being oaky. With water: It doesn't really swim too well, the aromas fade quicker than the alcohol. A tad more simple and younger/alcoholic feeling than the nose. I'm not changing my thoughts on what it could be. The finish is medium long, slightly alcoholic upon swallowing with the same light profile – summer fruits and a sweet dextrose component with a citrus/orange aspect to it. A hint of oak substance in the aftertaste.
Verdict:
Well, that's a nice, light, fruity summer whisky. Nothing too complex, too old or too earth-shattering, just a very nice and clean dram, nothing wrong about that at all. To me it tastes like a roughly 10yo, about 50% ABV Highland/Speyside style dram, ex-bourbon matured (probably refill unless it's a really young first fill) with a rather clean/slightly fruity/citrus profile, steering my mind towards a Glenmorangie/Glenlivet style. Right, time to contact Peter Moser to find out what this is… *drumroll please*
Ha! Glenlivet! There you go, that was my first hunch (before my mind drifted off to Glenmorangie [yeah, you can always say that in hindsight, mister!]) and it turned out to be correct. Well, nothing more to add here, an older bottling of a very well drinkable Glenlivet. Much more interesting than the 12yo or the new Founder's reserve 😉
Score: 82/100
(Nose: 83 Palate: 82 Finish: 82)
Thanks to malt mate Peter Moser at fosm.de for the sample!