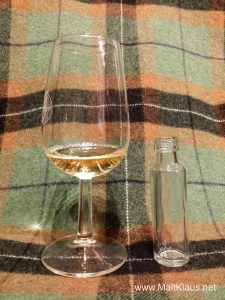 Dram data:
Distillery: Glenlivet
Bottler: Official Bottling
Distilled: –
Bottled: June 2014
Age: 16 years
Limitation: –
Casks: 1st fill ex-bourbon
Alcohol: 55,2%
unchillfiltered and uncoloured
Whiskybase link
Oh, a mystery whisky! I love tasting mystery whiskies – even if there's a chance I'll make an utter fool of myself, but that's part of the game! Let's dig in!
Tasting notes:
Colour: apple juice
The nose is pleasant and light on the first nose with a hint of alcohol dominating. Light vanilla, red apples and red pears, strawberries, dried pineapple, summer honey, candyfloss and dextrose sugar pieces for athletes with added lemon aroma and heather tips. With time and careful nosing there's quite a lot going on here, creating a summer-dram profile. Not too much oak influence, if you asked me I'd put this at about 10 years. My first intuition says Highlands (or maybe Speyside). A very clean and unobtrusive style of whisky – a Glenmorangie with more oomph than the 10yo or a slightly richer Glenlivet? Something along those lines. Even if it's not, that's what it reminds me of and it smells familiar. Definitely modern whisky and I'm 99,9% sure it's Scotch malt whisky (leaving a tiny margin of error open, because, well, you never know, blind tastings are funny things). On to the palate now! Continue reading "Blind tasting: Glenlivet Nadurra 16 yo batch 0614C"