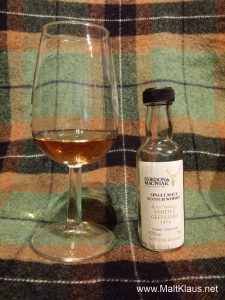 Dram data:
Distillery: Glenlivet
Bottler: Gordon & MacPhail
Distilled: 1974
Bottled: 18.02.2008
Age: 33
Limitation: 726 bottles
Casks: 3 sherry hogsheads
Alcohol: 43%
unchillfiltered; uncoloured
Whiskybase link
I know posts have been far and few between lately – I'm very busy at the moment juggling different tasks, so please bear with me. Since it's been a while, let's make this tasting count. Glenlivet from 12 years before I was born? Don't mind if I do!

Tasting notes:
Colour: red amber
The nose immediately brings a smile on my face. Proper, aged whisky. I'm repeating myself here, there are many truly excellent young whiskies, but there is absolutely no substitute for time. You cannot produce this style of whisky in 5, 10, 15, 20 years, no matter what the marketing guys want you to believe. Older whisky doesn't mean better, but when it's right, it's right! Oh, sorry, I digressed a little. On the nose then… we've got a fragrant mix of spices up front. We're talking mulled wine spices. Cinnamon, cloves, allspice, that sort of thing, but not fresh and sharp, but on their second infusion. The spices are paired with quite a bit of oak wood concentrate, just bordering on too much (I hope this won't show up too harsh on the palate) and loads of dark, dried fruit notes in the background (rum-infused plums, predominately). Also in the background are notes of Demerara sugar, chocolate cake, slightly burnt toffee, toasted walnuts and sweet vanilla pipe tobacco. All in all a very nice combination of intense, thick aromas. The palate is surprisingly light on the arrival with an unexpected fresh alcoholic tingle, but also a slightly bitter and dominating oak note up front, reminiscent of propolis. A few seconds in, the alcohol goes away, leaving a profile that's quite different from the nose. The oak notes remain, paired with a slight sour note I can't quite put my finger on and which I'm not too fond of. A case of sample degradation? Don't think so, this would've shown on the nose as well… As it is, this is a bit one-dimensional and overtaken by the cask. In addition to the oaky and slightly sour flavours, there are kitchen herbs, dried ginger and liquorice to be found. I'm especially missing the rum-infused dried plum fruits I was quite fond of on the nose. As a matter of fact this is starting to head into the direction of an under-proof Macallan I once got to taste. Adding a few drops of water just dilutes the aromas, but doesn't do too much to bring out different ones. It remains one-dimensional. Not bad whisky, mind you, it's still a good dram, but punching below expectations and current prices. The medium-long finish is following the direction of the palate. Slightly alcoholic upon swallowing (more than expected at 43% ABV), a touch of sourness, quite a bit of oak, ginger, cloves, dried kitchen herbs and almost no sweetness.
Verdict:
Oh dearie me, what happened there? This started out so well on the nose, but the palate just wasn't up to my expectations, overtaken by the oak (which isn't actually that woody, but lacking other dominating flavours, it just stands out), and lacking complexity and the depth of aromas I expected. Well, it just goes to show that age really isn't everything. Still a good dram, but for a stellar example of a well-aged dram, take a look at this 1985 Balblair, also from Gordon & MacPhail.
Score: 82/100
(Nose: 88 Palate: 80 Finish: 80)
Thanks a bunch to malt mate Jo for passing on the sample!