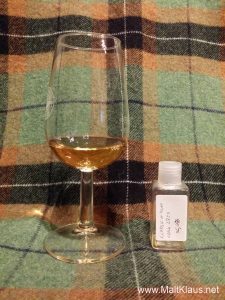 Dram data:
Distillery: Undisclosed
Bottler: Jack Wieber's Whisky World
Distilled: –
Bottled: 2014
Age: NAS
Limitation: –
Casks: #2725
Alcohol: 56,4%
unchillfiltered and uncoloured
Whiskybase link
More budget whisky goodness – this time we've got an undisclosed, mystery distillery, single cask bottling from the Isle of Islay. This was sold for about 40€ in 2014 – let's see if it fits the bang-for-the-money ticket!
Tasting notes:
Colour: amber
The nose is undeniably that of a young, fiery, rascal-ey, smoky Islay malt, you can't deny the heritage. My mind immediately went "Lagavulin" as soon as I stuck my nose in – I would bet half an old fisherman's boot on that – but we'll never know for sure… Rich peat smoke, slightly medicinal, but not at Laphroaig levels, paired with an initial blast of black pepper, menthol, refreshment tissue, oily tweed jacket, some seaweed, sweet toffee, coffee dregs, walnuts and hazelnuts and a whiff of cracked shells on the beach. When I looked at the colour I hoped it would not be a dram slaughtered by a freshly rinsed sherry cask taking on an overly sweet profile – thank god it is not! This is a classy nose, I'm very impressed! Let's hope the palate can deliver as well! Quite a bang on the arrival – white pepper, chili, a touch of new-make (in a good way), with intense, yet somewhat mellow and not overly medicinal peat smoke followed by an oily, mouth-coating, thick style I always associate with Lagavulin. Heavily peated whiskies can be utterly delightful in their higher single-digit years, and this is exactly what we've got here. Matured to a point where it's starting to mellow, yet still retaining the young, fiery, rascal-ey style.  Just a slight vanilla sweetness, caramel, toffee (but not too sweet – more the aromatic compounds), ground coffee dregs, dark chocolate, a mixed bag of dark, roasted nuts and the slightest hint of oriental spices. Oh yes, oh yes, this is good! But it doesn't swim! Enjoy neat! The finish is equally young, fiery, intensely smoky, with chili, white pepper and a good alcoholic kick upon swallowing before drying down (and getting quite dry), with extra dark chocolate, roasted brazil nuts and almost burnt toffee with a hint of spices. Lingering until the next morning!
Verdict:
Jackpot! The end. Okay, okay, I'll add a few more words. This is an utterly delightful sherry-cask matured (but not sherry-slaughtered) young, rascal-ey, fierce, heavily peated, heavy-hitting Lagavulin. Oh, sorry, I meant to say "undisclosed Islay whisky". Ahem. I'll eat my boot if this isn't Lagavulin (they do make edible boots, do they?). Everything you'd want in a young, heavily peated Islay dram. Some would sell this to Asian billionaires in crystal decanters with some bullshit story for ludicrous sums – Jack Wieber's Whisky World sells it to the regular punters for 40-45€. Very commendable and recommendable!
Score: 89/100
(Nose: 90 Palate: 89 Finish: 89)
Thanks to malt mate Manny for the sample!