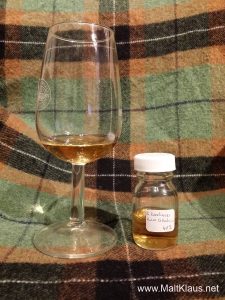 Dram data:
Distillery: G.Rozelieures
Bottler: Official bottling
Distilled: –
Bottled: –
Age: NAS
Limitation: –
Casks: Ex-Sauternes
Alcohol: 40%
unknown chill filtration / colouring
Whiskybase link
France is the biggest importer of Scotch whisky in Europe – but as a whisky-producing country it's relatively unknown, except to insiders. I certainly have never heard of the G Rozelieures products from the Lorraine region before, until blogging colleague Franck from lecavedecobalt.com asked me whether I wanted to try their wares. Oh yes, I don't mind if I do! Peated French whisky, distilled from self-grown, local barley and double-distilled in traditional French "Cognac style" stills, that does sound interesting!

Tasting notes:
Colour: orange gold
The nose is definitely smoky, no doubt about that! I would call it cold bonfire smoke, rather than your typical Scottish peat, but that might just be due to the type of peat being used – and the strong wine-cask influence trailing the peat! Smoky, sweet grapes, slightly bitter grape seeds and hulls, gooseberries, mirabelles, light, fresh kitchen herbs, a touch of cracked pepper, orange peel and a hint of soap. Interestingly enough, this reminds me strongly of the Lost Spirits Bohemian Bonfire – which was also matured in French casks. Quite interesting and fresh, definitely not your typical whisky by any stretch of the imagination! Very hard to score, but I do see it slightly above average compared to my average benchmark whiskies.On to the palate! Quite sweet and oily on the arrival, light and elegant but not weak, despite the 40% ABV. Smoked honey (much less smoke than on the nose!), malt, condensed grape must, crushed grape seeds, caramelised orange peel. Definitely strong on the wine cask influence, which I'm usually not too keen on, but in this case, it works to counterbalance the young(ish) spirit. Not overly complex, but an enjoyable sipping dram. The medium-long to short finish is slightly spicy upon swallowing, with cracked pepper and orange peel, before the grapes and dry, slightly bitter grape seeds make their appearance again.
Verdict: Well, that was something different for a change! A young, peated French whisky with a LOT of wine cask influence. A pleasant sipping dram, a notch above the standard supermarket Scotch whiskies, which is not a bad place to be for a product from a small distillery at a reasonable price (46€ when I checked). It could use a bit more balance from the overshadowing wine casks, but, it's a whisky from a wine-producing country, so that's an excuse. I'm looking forward to trying the other products of this distillery – it might be a while though, due to my respectable sample backlog!
Score: 76/100

(Nose: 77 Palate: 76 Finish: 75)
Thanks to malt mate Franck for the sample!