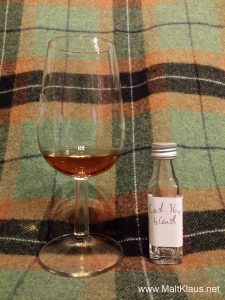 Dram data:
Distillery: – (Blend)
Bottler: Cadenhead's
Distilled: –
Bottled: 2016
Age: 36 years
Limitation: –
Casks: Sherry Butts
Alcohol: 44,5%
Unchillfiltered; uncoloured
Whiskybase link
How can you say no to a sherried 36yo blended whisky, especially a small batch product from Cadenhead's? Too right – you can't!
Tasting notes:
Colour: red amber
The nose opens on the dark, dense, mysterious side. You might also call it closed-up. But, hang on, it's a blend, that's supposed to feature a rather tightly woven net of aromas. A mixture of dark, dried fruits. All the dark, dried fruits you can think of put in a blender and mixed thoroughly – after adding a pint of orange juice with bits, and a handful of orange peel. A pinch of spices – cloves, star anise, cinnamon, pimento – paired with a whiff of peat smoke, cask smokiness and polished oak cupboard. I usually prefer a not so tight and closed-down aromatic profile, but it is a blend after all, and a very good one at that. Let's see how the palate holds up. More of the same. Quite a lot of (well-integrated and not overwhelming) oak notes up front, rich, spicy and a balanced mixture of dry and fruity notes. You can immediately tell the mix of well-aged components forming, once again, a tightly woven net, making it hard to pick out individual aromas, but I'll try anyway. Lacquered oak cupboard with an old leather jacket, propolis, dried, dusty dark pears, quinces, plums and blood oranges from ten years ago, air-dried pickled ginger,  paired with gingerbread spices. Refreshingly un-sweet, there's a bit of fruitiness provided by the, well, fruits, but there's no "modern" PX or old-style Paxarette, which works very, very well. The long finish is rather spicy upon swallowing – blood orange juice with orange oil, pickled ginger and gingerbread spices. Afterwards it dries down to a dry mix of dried fruits, fragrant oak (not overpowering, but noticeable) and a hint of spices. Teeth-coating too!
Verdict:
Oh, now there's a surprise! Well, what isn't a surprise is getting a very good bang-for-your-money blend, we're used to getting pampered like that by Cadenhead's, but it was a nice, surprising experience for me. At first it was a "very good" blend on the nose – a bit closed down and complex, as any good blend should be. But then there was the palate, improving upon the nose, providing a refreshingly unmodern (well, the youngest whisky is 36 years old, after all…) whisky. No overpowering vanilla, no sickly sweet sherry smothering the palate. Very good indeed! if it weren't for austerity measures, I'd order a bottle right away…
Score: 90/100
(Nose: 89 Palate: 90 Finish: 90)
Sample unsponsored, paid for out of my own pocket