Put your hands in the air if you've heard of this distillery before. Quite a few whisky nerds have tried the offerings of the "Paul John" or "Amrut" brands, which produce very solid drams, but Rampur? A first for me in any case. It's produced by the Radico Khaitan group, a big player in the Indian "whisky" market, (in brackets because much of Indian whisky is made from molasses) this whisky doesn't have an age statement and was launched as their first "true" single malt release in 2016. My sample is from one of their early batches back in 2016. Let's dive in, shall we?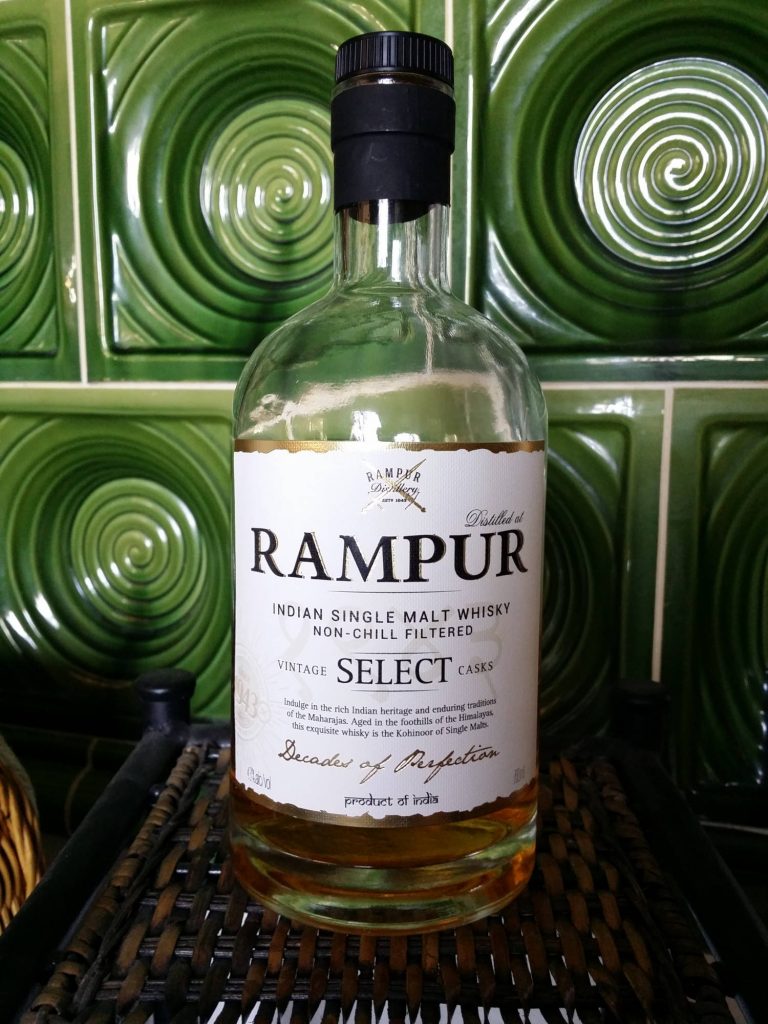 Dram data:
Distillery: Rampur
Bottler: official bottling
Distilled: –
Bottled: 2016
Age: –
Limitation: –
Cask: oak
Alcohol: 43%
colouring added / not chill filtered
Whiskybase link
Colour
Slightly reddish Gold
Nose
That's a funny whisky. Pretty oak-driven with a rather apparent oily, warm, oak-sawdust note on first contact. Quite spicy too, I can't avoid the obvious image of an Indian market walking past spice vendors with cinnamon and cloves out in the open, enriching the air. The warm oak and the spices are overpowering, the dried apricots, mangos and banana chips with a dollop of honey in the background only play second fiddle. Nice enough, but it gets boring rather quickly and it's a bit too loud on the oak influence without much to balance it out.
Score: 78/100
Taste
Pretty light on the arrival, feels more like a 40% dram, but that's semantics. Most of the action is in the front of the mouth for me, it's one of those rare whiskies that don't tickle any of the flavour regions in the back of my mouth and throat, which makes it a bit weird. Rather dry too, with oak shavings and dry spices (sucking on a cinnamon stick and cloves). Maybe a hint of honeycomb too, but where did the fruits go? Not bad, mind you, but it's lacking balance and richness.
Score: 71/100
Finish
Quite dry upon swallowing, the loud oak shavings and the spices are back with a touch of honey and a small piece of dried apricot if I search long enough. Medium-long.
Score: 72/100
Verdict
Hmmm… an interesting experience. The distillate is already mostly taken over by loud oak which adds a lot of spices and dry notes – but not much else. Not bad, but just not very entertaining either. Interesting enough to give it a try if you come across it at a tasting but not much more, I'm afraid.
Overall Score: 72/100
Postscript: Reaching out on twitter several malt mates have reported differing opinions on this whisky – ranging from recent versions to batches bottled around the time of mine. Reports and taste descriptors vary – most are similar to mine but some are rather favourable – which leads me to the conclusion that there might be some noticeable batch variations. If you can, try before you buy!
This sample was provided by Keith's MMA2016 dregs. Cheers matey!.