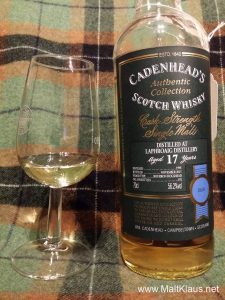 Dram data:
Distillery: Laphroaig
Bottler: Cadenhead's
Distilled: 1998
Bottled: November 2015
Age: 17
Limitation: 192 bottles
Casks: bourbon hogshead
Alcohol: 56,2%
unchillfiltered and uncoloured
Whiskybase link
Indie Laphroaig seems to have become scarcer and scarcer these past years – especially older whiskies in their teens or above. Cadenhead's to the rescue!
Tasting notes:
Colour: pale white wine
The nose is typically Islay. Well-matured, refill-cask, heavily peated Islay whisky. Peat smoke, the usual phenolic kind with dirty bandages and iodine, soot, ash and well-used machine oil. Behind all that smoke, a salty sweetness creeps in – salted toffee on custard served on clamshells with lemon drizzled on top. Maybe a green apple is involved as well. The power of great refill casks, allowing the spirit to shine, just rounding out the edges. On to the palate:
More of the same. Intense, with alcohol and pepper, slight sweetness and peat smoke on the arrival. Machine oil, soot, old bandages with iodine, campfire smoke paired with custard, a slice of lemon, salted toffee while at the same time licking salt-water-sprayed clamshells. Yep, very much spirit-driven, but in a good way, not neglecting the effects of 17 years in an oak cask. With a good drop of water: Oh, that opens up nicely! It takes the peppery edge off and intensifies the peaty and slightly sweet notes. The long finish is medium intense upon swallowing, oily with (what else) intense peat smoke, soot and ash as well as a slight caramel and custard sweetness paired with the salty, shells. Lingering smoke.
Verdict:
Mmmmhhh… good quality refill bourbon casks create my preferred style of heavily peated whisky. Spirit-driven, so the peat smoke influence isn't masked by anything, but still a good supporting cask influence. A very enjoyable dram and not too expensive in today's crazy marketplace!
Score: 88/100
(Nose: 87 Palate: 88 Finish: 88)