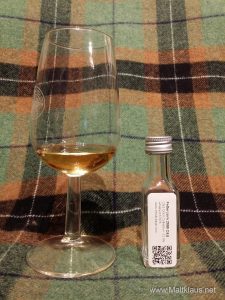 Dram data:
Distillery: Fettercairn
Bottler: C&S dram collection
Distilled: 12.09.2000
Bottled: 23.03.2015
Age: 14
Limitation: 217 bottles
Casks: Bourbon barrel 3171
Alcohol: 53,5%
unchillfiltered and uncoloured
Whiskybase link
This is the season of "firsts" – the first Fettercairn to be officially reviewed on the blog! Let's do it!
Tasting notes:
Colour: red gold
The nose opens on the "green" side. Freshly cut grass with lemon and vanilla drizzled on top. Sawdust with resin and a hint of wood glue, dry end-of-season tangerines, old malt sweetness and a whiff of allspice. Very interesting profile that takes a bit getting used to, definitely not mainstream! Adding water and waiting for several minutes reveals more tropical fruity notes Give it some time! On to the palate: Dry with quite a bit of oomph on the arrival (how many dry-ish drams have we had in a row now? wow!), but, once again, mouth-coating and rich. More malty and fruity sweetness than on the nose, but for the first seconds the grassy, herbal character with wood shavings and resin remains. After the initial hit passes and fades into the background the dry tangerines return, complete with tangerine seed bitterness, a bit of caramel with vanilla on top. With a bit of water  added more fruits start to appear. Quince jelly, mango and apricots. This baby needs a bit of water and time! The medium long finish has a bit of pepper upon swallowing before the wood shavings mixed with resin and aforementioned fruits apear, staying until the end!
Verdict:
Not a bad first impression at all for the first review of a Fettercairn on the site! While the bourbon barrel did have a lot to say, providing tropical fruits and more, the distillate is also allowed to shine. Not a dram for the impatient – give it a bit of water and time. Sometimes you've got to be patient with these teenagers… A few bottles still seem to be kicking around for 80+€ which I find to be a bit on the high side.
Score: 84/100
(Nose: 84 Palate: 85 Finish: 84)