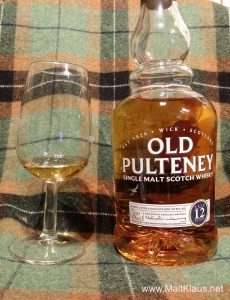 Dram data:
Distillery: Pulteney
Bottler: official bottling
Distilled: –
Bottled: 2014 (L14 338)
Age: 12 years
Limitation: –
Cask: –
Alcohol: 40%
chill filtered and coloured
Whiskybase link
After thoroughly enjoying a (blind) dram of Old Pulteney 12 yo during a dinner in Speyside earlier this year, I just had to get a bottle and taste it again in my usual, controlled setting. Let's find out of it lives up the earlier pleasant experience!
Tasting notes:
Colour: gold
The nose is surprisingly aromatic and rich, starting out with blood oranges, dried pineapple and light vanilla. Building upon those, there is a fruity sweetness (peach and apricot juice mixed with ice wine?), tinned tangerines and lychees, white chocolate, a very delicate spicy note (fresh fennel and pickled ginger?) and a faint trace of salt spray. A mix of sherry and ex-bourbon casks, I presume, but active and good wood. This is very good, much better than expected of an entry-level whisky at 40% ABV! Loads going on, yet not overwhelming for beginners. I really hope the palate can keep up with that!Mmmh…. oh yes, it can! Hallelujah!  A whisky that just works at 40% ABV – not too common! Fruit explosion on the arrival, mouth-coating, rich and oily (as much as can be at that ABV…). Candied blood oranges and pineapple pieces, mango, pickled ginger, apricots, juicy peaches. There's a slightly dry note counterbalancing the fruitiness, some vanilla, a light hint of oak and just the faintest trace of mulled wine spices. Very enjoyable indeed! The medium-long finish is initially slightly spicy (peppery) before a mix of aforementioned fruits appears, accompanied by an onsetting (still fruity) dryness with a hint of oak towards the end.
Verdict:
Ah yes, this is every bit as good as I remember it that day at the dinner. It's a very rare occurrence in this day and age that you can pick up an inexpensive bottle of whisky (at about 30€), with a double-digit age statement that just makes you go "mmmhhh… this is an awfully nice and enjoyable dram".  Well, we are getting towards the end of 2016 and I'm still looking for my "daily dram of the year" for my year's end awards. Will this be it? We'll see…
Score: 86/100
(Nose: 86 Palate: 86 Finish: 85)