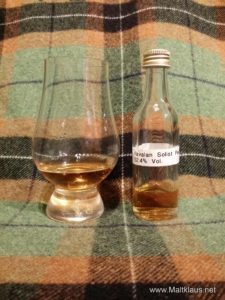 Dram data:
Distillery: Kavalan
Bottler: original bottling
Distilled: 14.05.2007
Bottled: 2016
Age: ca. 7 years
Limitation: 112 bottles
Casks: Peated cask
Alcohol: 52,4%
unchillfiltered and uncoloured
Whiskybase link
Tasting notes:
Colour: dark wood honey – quite dark for a young whisky matured in refill oak casks
The nose is quite strong on the alcohol on the first sniff. And on the second. On the third nosing the aromas finally get through. A hint of peat smoke on top, if you're looking for it, with a fleeting whiff of Chinese tiger balm (mostly the eucalyptus and menthol talking). Slightly burnt butter cookies, dark cherry juice with cracked stones, sweetened virginia pipe tobacco, old leather, gentian and mixed spices with black pepper, ginger and chili powder on top with an ever-present oaky base note – probably a tad too loud even? Quite unusual, interesting, but a bit restless and quite a bit removed from the heavily (first fill) sherried style Kavalan is well-regarded for. The palate is also quite strong on the alcohol initially with a herbal bitter dryness trailing behind, coating gums and teeth. Hmmmm, very odd… gentian, lovage, chili, tannins (oak extract used in the Cognac production?) extracted from the oak by the vigorous and strong maturation in the Taiwanese climate meets a distillate which is still young and feisty at heart! I'm not too sure about refill casks being suitable for this climate and style, for my palate the oak is just too loud and vulgar without much of a counterbalance. The medium-long finish is quite strong initially, a bit herbal, slightly bitter-green and dry with chili, black pepper and some oriental spices. Trailing behind there's a slight malty sweetness and a hint of peat smoke at the end.
Verdict:
Hmmmm… European oak casks, previously used for Islay whisky, filled with spirit produced in Taiwan and matured in a climate known for its rapid maturation properties. That could be a match made in heaven… However, the whisky is still a bit young at heart, feisty, butt-kicking but at the same time all the aromas left in the cask – tannins and spicy, hot, even (not unpleasantly) bitter notes – were coaxed into solution. If you like a butt-kicking, hefty, tannic dram then this might be for you, it's definitely good whisky, just a bit on the extreme side of things. I personally prefer the first-fill ex-sherry Kavalans which (usually) are much more multi-faceted and balanced.
Score: 79/100
(Nose: 84 Palate: 77 Finish: 80)
Sample kindly passed on by my malt mate Peter Moser