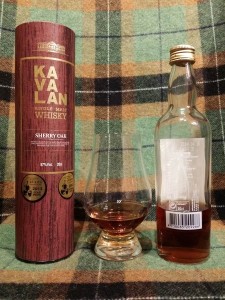 Dram data:
Distillery: Kavalan
Bottler: original bottling
Distilled: –
Bottled: 18.04.2014
Age: NAS
Limitation: –
Casks: Old ex-solera Sherry Casks
Alcohol: 57%
Unchillfiltered; natural colour
Whiskybase link
Tasting notes:
Colour: mahogany
Finally on my table and in my glass – the much talked-about Kavalan Solist Sherry Oak whisky. Time to find out what all this hype is about! The nose opens with a noticeable alcoholic note – no wonder at 57% ABV. Underneath the alcohol are intense ex-sherry aromas from supposedly real 20-year-old ex-solera system sherry casks! Don't even bother looking for the distillery character – that's a dry sherry cask driven dram! Right, about 10 minutes have passed now – the alcoholic note moved a bit to the background, so let's see what we can get: Very intense! Full-on! In-your-face! Lots of dried dark fruits, mostly dates and figs but with a dry sherry note on top. Almonds, marzipan, cloves, star anise, brazil- and walnuts. At the same time there's always the fresh alcoholic note present – let's see how it changes with a bit of water. Not exactly the best swimmer. Alcoholic notes accentuated, more nuts and spices, less fruits. Needs considerably more water to establish a balance which also tames it considerably. On to the palate now. Neat: Alcohol with a really intense load of dry sherry notes up front followed by equally powerful dried dark fruits (dates, figs, black raisins), cloves, star anise, allspice, a pinch of nutmeg and roasted nuts. Coating the entire mouth and very mouth-watering. Speaking about water: Adding an espresso spoon of water calms it down considerably, but just like the nose, the aromatic components fade more than the alcohol. You need to take it down considerably to about 40-46% to achieve a good balance again, but the punchy aspect is obviously lost. The long finish features intense dry sherry with loads of spices and dark, dried fruits upon swallowing before gliding down the throat into the belly where it warms you up from the inside. It fades and fades and fades until it's gone
Verdict:
Whoa, what an intense, heavily sherried beast! Definitely not a beginner's dram! You can tell the old ex-solera sherry casks – a whole different league than the modern, quickly sherry-impregnated casks designed for use in the whisky industry. If you haven't already heard, the speciality of Taiwanese whisky lies in the maturation. The climate is supposed to accelerate maturation and the angel's share – the amount of whisky lost due to evaporation each year – is extremely high compared to, say, Scotland. Therefore the whisky is bottled at a relatively young age, 5, 6, 7 years or else there would be nothing left to bottle. I'm a bit wary of people talking about the whisky maturing three or four times as quickly as in Scotland – a good quality matured Scotch matured in these kinds of casks for 15-20 years, which would be the purported equivalent, usually feels more mature with a lot more oak influence. This Kavalan Solist Sherry oak stayed young at heart – which is not a bad thing at all, it's just… different.
Now, I am not quite sure what to make of the bottle itself. There's a small "Solist" designation only on the back label. "Solist" are the single cask releases by Kavalan but in this case I can't find any indication of a cask number on this 20cl bottle, which is kind of weird. If someone can shed light on this – please leave me a comment below!
In the end very much worth a try, a very good, intense, still a bit young-ish dram. However, nearly 40€ for a 20cl bottle? That's a really steep asking price – more a result of demand due to the worldwide attention this whisky received in recent years than anything else. You'll have to decide for yourself whether it's worth that kind of money to you.
Score: 89/100
(Nose: 88 Palate: 89 Finish: 90)
Thanks to my malt mate Florian in cooperation with Moses Kost-Bar for the generous "sample"!