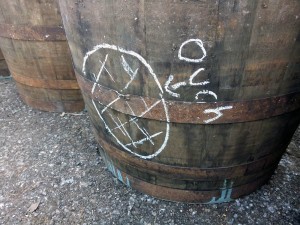 "Don't feed the beast that chokes you". A blog post under that title paired with a new site banner with the words "Hibernation mode" by Malt Maniac Oliver Klimek sparked many responses, questions and similar statements by other whisky bloggers all over the world. Long-standing, respected whisky bloggers are putting blogging on the backburner or calling it quits:
But you can expect the blog to remain low-key until the grip of the beast has eased at least a bit.
What's it all about?
The biggest issue at the moment, amongst others, which I won't touch since Oliver has already laid them out in detail, is the price of whisky. A topic which I have written about in the past as well. As whisky bloggers, when we can no longer afford the whiskies we want to try, and share them amongst our peers and friends, we run into trouble. We either have to depend on the generosity of distilleries and distributors, wealthy friends, the purchasing of samples or, begging. Begging for samples, if you don't mind me digressing, but it has to be addressed, is a recent phenomenon. That small but vocal and nagging sub-group of bloggers is dragging the whole online whisky writing community through the dirt. This results in rolling of eyeballs when you mention what you do, as I've experienced myself and my good friend Johanne has also written about (which has triggered me to write about it too). It's a shame. We don't need that. Stop begging, people! You're not only hurting yourself, you're hurting all of us and make us even more frustrated! I for myself have a written code and that includes never asking for samples and giving my honest opinion without sugar coating on those samples which are offered to me. If it comes with strings or expectations attached, I don't take it, period. And neither should anyone else. That's the journalistic ethic code, and journalists is what we are. End of digression.
I went on a trip to the Spirit of Speyside whisky festival exactly a month ago. One thing I couldn't help noticing was the extreme number of extravagant, fancy, glitzy and exorbitantly priced bottles of whisky I encountered – either on sale or still in cask with an announced 5-figure future selling price. At the same time the "daily dram" category gets flooded with younger, no-age-statement releases at higher prices and not always better quality than we previously got.
Whisky used to be a brown spirit for everyone. If you had a "normal" income, you could afford a (really, really) good tipple, if you wanted to. Whisky is not only a brown spirit, it is also an aged spirit. All the fancy cask voodoo so popular these days can only bring the spirit so far – age is more than a number, it is a prerequisite. Some distillates are great at a young age (Talisker, Ledaig, Kilchoman spring to mind, a non-exclusive list) while others take a long time in cask to mature to perfection. The sweet spot for many whiskies lies between 15 and 25 years. That, however, is a diminishing category. Demand is high and stocks over 10 years of age are depleted at a higher rate than can be replenished. It will take a few more years until the vintages of increased capacity reach "full maturation". There is not a threatening level of shortage of old whisky, but strained supplies and high demand have created a malt whisky price explosion on the shelves. Marketing departments have played their part in creating strong brands and ultra-hyped releases. The secondary whisky market, people buying limited bottles and "flipping" them for profit at auctions or other private sales, is also a strong force. Distilleries and bottlers no longer want to watch other people raking in the cash and increase prices even further to increase their cut. Yes, even some whisky merchants prey upon their customers taking ridiculously large cuts with in-demand bottles. On the recently released 16-year old Springbank local barley some merchants made profits of 80-100 pounds on what should've been a ca. 110-120 pound bottle. Can you blame them when you see these whiskies on offer for 250€ on the secondary market?
It has come to a point where the whisky market is getting ridiculous and no longer does "John Average" have the past plethora of affordable, great, well-aged whisky to choose from. And neither do many whisky bloggers and their friends who they used to swap samples with. So they get more and more dependent on paid samples or freebies. Free samples of whisky they/we could never afford, which is an honor on the one hand, but frustrating on the other, because we know we would've been able to afford them just two, three, five years ago. But the problem doesn't stop here, because it leads all whisky bloggers into a dilemma:
Who do we write for?
Great whisky used to be available in great quantity to a broad range of people. This has changed, as I just demonstrated. This begs the question in regards to tasting notes: Who do we write for?
– Do we write for the bottlers and distilleries as a marketing instrument to raise "brand awareness", with the cheaper releases riding on the perceived wave of glory of the ultra-rare releases?
– Do we write for the few people who are well-off and can splash out on crystal decanters and the "really good, old stuff"? Does this clientele even bother reading tasting notes?
– Do we write for "John Average" and review drams he will never have a chance of tasting (and neither would we if we didn't get samples) or just confirm the mediocrity of today's mass-NAS releases he can afford?
I think the answer is a mix of everything – and beyond. You have to play the hand you're dealt – or stop playing. It's time to stop and take a deep breath at this point. It's all too easy to get caught in misery, despair, doom and gloom. I understand the colleagues who get uninspired, fed up and more, ready to take the foot off the gas or retire. I feel your pain just as well! However: It's not all that bad as it seems at first glance – at least in my book!
A way forward
While the big, shiny, branded, marketing-pushed, expensive bottles are often talked and discussed these days, it's important to not lose sight of the distilleries, bottlers and bottlings which still offer great quality at affordable prices. Yes, they're harder to find, they're not as plenty as they used to be, they too have gotten more expensive, but they're still out there.
For me, personally, my drive to write and to blog about whisky is as strong as never before. People are looking for guidance these days more than ever, in a superheated, overcrowded marketplace with more different whiskies released each month than ever before.
Whisky for me is as much about the liquid as it is about the people you meet through it and bond with – in Scotland and beyond. The long-standing friendships I've got which started through whisky are a huge asset in my life. Never forget: Whisky is a very social drink and the #whiskyfabric includes some of the nicest people on this planet, of that I'm sure!
I will try to provide a broad mix of content going forward. More articles and opinion pieces like this one but also tasting notes of the extravagant, the cheap, the good and the bad. My true passion, however, still remains unchanged. My blog is called "DramsOfKlaus – MaltKlaus' Daily Drams" after all. I will continue to hunt down, taste and blog about these daily drams. Good, great, excellent and affordable whisky for everyone, not just "the millionaires". The more challenging it gets the more incentive for me. I will keep going until the day I can no longer find a truly recommendable whisky that won't break the average malt lover's bank. May that day never come! That's my drive, my passion, my promise. And on that note let me loosely quote Whisky Youtuber Mark Dermul: "May the good, affordable malt be with you!". And remember: "Do not feed the beast that chokes you". Buyer beware, buyer take care!
Sláinte.