After the two rather long and eventful previous days, our group was keen on taking it easy on the third day. The entire day was centred around a steam train ride and everything else was planned around it.
Coleburn
So we started off as a group of four, Kat Presley, my brother and I hitching a ride with Crystal Coverdale to the decommissioned (since 1985) Coleburn distillery. What's so interesting about an old, dismantled distillery with no equipment left inside? The warehouses! The re-founded independent bottler Murray McDavid (the original company was sold in the course of the Bruichladdich takeover in 2013) bought them in 2013 and now they're used to mature their casks of whisky – stock they bought from the original Murray McDavid owners. We were met there by distiller and master blender David Simpson, who prefers the title of "Whisky Creation". After an introduction to the company we were led into the warehouses and were free to roam around and look at all the different casks stored on site (including bourbon and they also talked about vodka and rum). The oldest cask on site is a 1962 North British, in case you were wondering! Well, it's a traditional dunnage warehouse on two floors, as you can see in the pictures. I've seen my fair share of warehouses, so instead of peeking at all the casks and labels I mostly engaged in conversations with David and another lad – Tony Whitnock, former excise officer for Coleburn and other distilleries, joined our group and had a few stories to tell and confirm (involving "copper dogs" for sneaking out whisky from the warehouses…) which was a nice added touch. That's the guy you want to sit down with for a few drams and listen to stories of bygone times!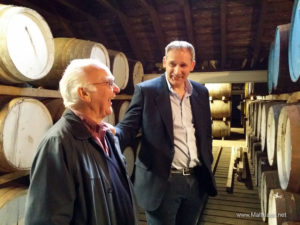 After the warehouse tour/chat the group went back to the old filling store to sample from a selection of their current bottlings. No tasting notes, sorry. The only bit of a let-down was looking at the price lists. It's a young company and they bought loads of stock probably at a premium price at a time when the market was on its way to get superheated, so that might explain some of it, but let's just say they're at the upper end of the market. But, hey, the time for a premium market segment is now and more and more companies are demanding higher prices because they're no longer willing to see their bottlings sold for double or triple the original price on the secondary market. Fair enough. It's just a bit of a bummer for us "ordinary punters". Right, 'nuff said about that, I'm sure they know what they're doing! It was, after all, a very relaxing and chatty start to the day and the tickets were free!
Strathspey Steam Railway
It was already lunchtime, so Crystal dropped Kat and us boys off in Dufftown with enough time left for a sandwich lunch before we hopped on board the chartered bus which would take us to Aviemore railway station. There we were met by Jo Lawson for an afternoon of dramming and riding a steam train in a private coach with Steve Oliver. And what a perfect day for it! Nearly cloudless blue sky and boy was it hot (for Scotland anyway)! We could use a bit of sunshine after the somewhat mixed weather the days before. There's nothing like relaxing and chatting with a dram in the glass, the Scottish landscape with beautiful green (and somewhat snowy) hills rolling by and a waft of smoky air from the engine sneaking in through the open windows! There were six drams in the course of roughly 1,5 hours (with a stop and engine direction change in between), the most memorable for me being a 1996 Imperial and an Aberlour ex-bourbon hand-fill. The latter of which I ended up buying a few days later, that's how nice it was!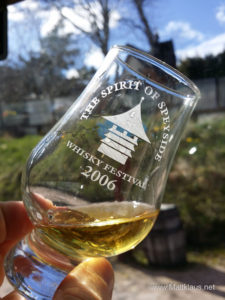 Now, there are two ways to look at this: Either the train ride could've been a bit longer or there could've been fewer drams. Three drams each way were a tiny bit rushed, as all in our group of four agreed. Or maybe we're just slow drinkers and were too busy chatting and enjoying the countryside. Anyway, Oliver is a knowledgeable and chatty guy, he took time to engage with all of us and we really enjoyed this part of the trip! Hey, we ditched Forsyths for this afternoon! After arriving back in Aviemore the coach took us to Tomintoul to "the whisky castle" whisky shop where we were poured another two drams on the house. Well, I am straightforward, so I do feel the need to mention the following. While I enjoyed the drams and chatting to the lovely owners, this part of the trip felt a bit like a promotional event. Just my gut feeling on the day! And yes, this part of the trip was stated in the programme. There was a small coachload of people, having already consumed six drams, stopping at a whisky shop for two more free(?) drams. Needless to say, whisky was purchased by quite a few people. I even succumbed and bought a mini of Abhainn Dearg for the purpose of reviewing for the blog and three bottles of local beer for the evening. Actually, it's a well-stocked wee shop and prices are reasonable, so, yeah, I can recommend it. So, there you go, I'd say that promotion thingy worked rather well!
At this point my brother and I changed cars – we didn't take the coach back to Dufftown but we rode back with Jo Lawson and Kat. But the day was far from over! Hungry as we were we decided to check for ourselves whether the award for the world's best cullen skink soup at the Cullen Bay Hotel was really as good as advertised. In short: Yes, it is! Highly recommended (Even though the restaurant menu is lacking local brews!). Even Crystal was willing to end her afternoon nap at the prospect of a good bowl of soup! What a trooper!
Since it was such a lovely and warm evening a walk on the beach in the sunset was in order before heading back to our house. And that was a rather relaxed day! Thanks to the drivers Jo and Crystal – my first day enjoying drams instead of filling up sample bottles!
Missed the previous parts of our Speyside adventure? Here are part 1 and part 2 and stay tuned for the next instalment!