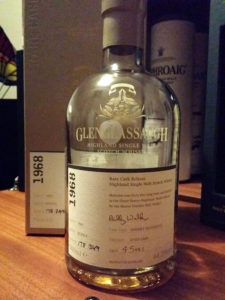 Dram data:
Distillery: Glenglassaugh
Bottler: original bottling
Distilled: 1968
Bottled: 2014
Age: 45 years
Limitation: 349 bottles
Casks: Sherry hogshead finish in cask 1601
Alcohol: 44,3%
unchillfiltered and uncoloured
Whiskybase link
Tasting notes:
Colour: amber
The nose opens on dark dried cherries with kernels and a load of PX sherry underneath. There's also the distinct smell of freshly unpacked leather shoes, a hint of cask smoke, a pipe tobacco mixture of Latakia and Black Cavendish paired with a whiff of burnt oak. No distillery character whatsoever remains – this is completely taken over by oak and then a fresh sherry finish added on top to get other than oaky flavours in. Hmmm… let's see what the palate is like. Very, very dry initially. Huge on the oak flavours, just as suspected. Full, rich, mouth-coating dark cherries with cracked kernels, full-on sweet and dry sherry. Like licking toasted sherry cask staves. Spiced sherry cask staves, as I also get toasted cloves and allspice. Oh, and a hint of mushrooms in the background. Freshly picked, slightly damp mushrooms – not unpleasant, though. The long finish is just as dry as the mouthfeel with PX sherry, cherry kernels, mushrooms on oak, dark old dried fruits and a huge lingering oaky note.
Verdict:
Whoa! Definitely not a subtle dram! This 45-year-old Glenglassaugh is full, rich, huge on oak and sherry. Well, to be honest, a bit too much on both accounts for my personal taste, in a way it feels like some kind of rescue operation of an over-matured cask was going on here with the sherry finish. I wonder what might've been if it had been bottled 10 years ago? But hey, I'm sure there are loads of people out there loving this style of dram to bits and it is still good whisky – just not great in my book.
Score: 82/100
(Nose: 81 Palate: 83 Finish: 82)
Thanks to Keith Wood for sharing the dram!