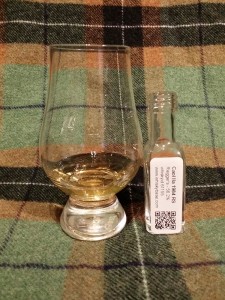 Dram data:
Distillery: Caol Ila
Bottler: Riegger's Selection
Distilled: 04.1984
Bottled: 23.10.2014
Age: 30
Limitation: 360 bottles
Cask: Rum Cask Finish
Alcohol: 56,2%
unchillfiltered; natural colour
Whiskybase link
Tasting notes:
Colour: straw
In the glass is a (hopefully) nice Caol Ila from the mid-80s, distilled at a time, when many distilleries sadly closed down forever during the last big downturn of the Scotch industry. Let's get started! The nose is surprisingly fresh from the get-go! I haven't looked up the details but I guess this was at least a 2nd fill cask. Alcohol, salt spray, a slight hint of menthol, citrus peel and -juice, industrial cleaner (hey, what?) all mixed together with earthy, dirty peat smoke and a whiff of cough lozenges. After some time in the glass more earthy notes appear with a very light sweetness underneath – caramel perhaps. Feels a bit unbalanced and too "fresh" for its age. Adding a drop of water doesn't change too much, if anything the earthy, peaty notes stand out a bit more but the freshness stays the same. The palate is big on the arrival, immediately coating the entire mouth with aromatic, earthy peat smoke and oil and a fierce, strong combo of citrus, white pepper, vanilla with a caramel sweetness and coffee notes following close behind. Wow, I did not see that coming! After the initial oomph it mellows down to more caramel, cocoa, chocolate sweetness with omnipresent, now more phenolic peat smoke, still coating every square millimeter of surface! There's an earthy, "dirty" background layer which adds depth, but the oak is rather silent, suggesting an x-fill cask, bringing out the distillery character even after all these years maturing away. The long finish shares the same characteristics as nose and palate – a bit alcoholic upon swallowing but immediately getting oilier and sweeter with the phenolic, peaty notes lingering for a long time.
Verdict:
Now that was a surprise! About 90% of the drams I taste are (to varying degrees) more engaging on the nose than on the palate – this is the exact opposite! While the nose is a bit unbalanced and boring, not changing much even after close to an hour in the glass, the palate on the other hand is oily and packs quite a punch with good depth. All in all a Caol Ila from not too active a casks which retains a lot of the distillery character. I can't help but wonder, though, what re-racking into a fresh(er) cask for a year or two would've achieved…
Afterthoughs: I do not specifically look up details on bottlings prior to tasting so I did not know this was "finished" in an ex-rum cask (probably two tired hoggies or barrels re-racked into the rum cask judging by the number of bottles). I certainly did not get any rum influence, but maybe that's what influenced the nose? No idea – and not a very successful finish in my book.
Score: 84/100
(Nose: 81 Palate: 87 Finish: 85)