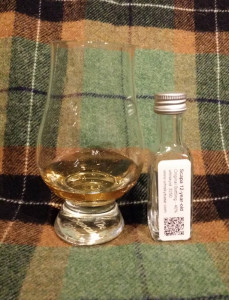 Dram data:
Distillery: Scapa
Bottler: Original Bottling
Distilled: –
Bottled: ca. 2000
Age: 12 years
Limitation: –
Casks: –
Alcohol: 40%
chill filtered; most likely coloured
Whiskybase link
Tasting notes:
Colour: fake orang-ey gold
The nose starts off light with a malty sweetness. Lots of malt sweetness, actually, also some dusty cardboard (but in a pleasant way). Vanilla, custard, salt spray, coconut, cherries, sweetened cherry juice and tinned tangerines. The palate is also pleasantly malty sweet with the same slight cardboard note, vanilla, custard, diluted sugary water of aforementioned tinned tangerines, honey, diluted cherry juice, sea-salt and a faint yeasty note in the background. Getting drier as time passes on, maybe some freshly cut grass? All being said, the 40% bottling strength are very noticeable on the palate, it's quite light and feels heavily diluted. I'd love to try this at 46%… The short to medium long finish starts off malty sweet, glides down the throat ever so gently to develop slight spices and a dry note with the yeasty aspect reappearing towards the end.
Verdict:
This review falls in an interestin time frame with rumours about the discontinuation of the 16-year-old floating around and the new "Skiren" NAS bottling having been announced just recently. Scapa hasn't found its consistent "standard bottling" yet, there was a 14-year old, this 12-year-old, the current 16-year-old – it's about time they settled on something, even though I have to say I quite like their current 16-year-old bottling. Right, back to the whisky at hand: Nothing to cry about having been discontinued, really. A "nice" standard, easy-sipping dram, quite quaffable too, but also lacking a bit, mostly thanks to the low bottling strength.
Score: 79/100
(Nose: 82 Palate: 78 Finish: 78)