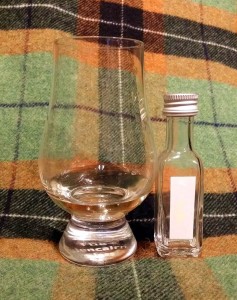 Dram data:
Distillery: "Laggan Mill" (yeah, come on, it's Lagavulin…)
Bottler: Cooper's Choice
Distilled: –
Bottled: 2014
Age: NAS
Limitation: 575 bottles
Casks: Butt 2772
Alcohol: 53,5%
unchillfiltered; natural colour
Whiskybase link
Tasting notes:
Colour: very pale white wine
The nose screams at me: I'm a young peat monster from Islay. I'm going out on a limb here, but I don't think this is not an Islay dram 😉 Peat smoke, peat smoke, alcohol (not overpowering), peat smoke, brine, fresh iodine (if such a thing even exists), boiled seaweeds, peppermint (from the alcohol), white pepper, citrus aroma, freshly cut flowerbed (more on the grassy side), malty background sweetness, a hint of vanilla and a faint metallic note (probably pretty young). Not an overly complex nose, but it's young, fresh, peaty and packs a punch (don't think this would work diluted down to 40% or even 46%). Yep, that works for me. The palate is surprisingly creamy and sweet for such a young rascal – diluted vanilla pudding. The peat smoke level is quite reduced on the palate but it's still unmistakably there. Coal smoke, brine, seaweed, licking roasted scallop shells from the inside. Hospital iodine note? You bet!  A slightly metallic note again, this is young – it even reminds me a bit of young Lagavulin…? What else? Well, not much. A fierce, distillery character driven malt, again, not the most complex flavours, but very quaffable and enjoyable. The long finish is quite briny and salty with vanilla pudding sweetness and, what else, loads of peat smoke. Quite fierce and tempestuous too, but in a very likeable way.
Verdict:
The essence of Islay, young, reckless, wild and without too much cask influence but at the same time not really rough anymore – just remnants of metallic notes often found in young drams before the wood has had the chance of fully working its magic. It somehow reminds me of young Lagavulin, the nose reminded me more of young Caol Ila. Well, let's find out what it is, shall we?
After the revelation: Ah, yes, a young and feisty Islay malt indeed. "Laggan Mill". I'm 99% certain that's Lagavulin and my palate agrees, so I'll classify it as one Let me know if you know for certain it isn't :D. Probably about 7 years old, as I've heard through the industry grapevine there's a boatload of about 7-8 yo Lagavulin out there which currently is being bottled by many as (more or less) undisclosed Islay malt so that fits the bill. The only real surprise was finding out it was from a butt – must've been American wood.
Score: 84/100
(Nose: 84 Palate: 84 Finish: 85)
Thanks to my brother Johannes for the blind sample!