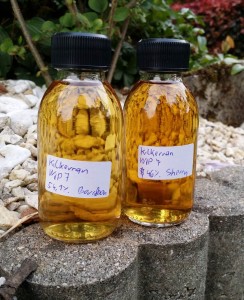 Dram data:
Distillery: Glengyle
Bottler: Official Bottling
Distilled: 2004
Bottled: 2015
Age: ca. 11 years
Limitation: 12000 bottles
Casks: ex-sherry
Alcohol: 46%
unchillfiltered; natural colour
Whiskybase link
Tasting notes:
Colour: fresh, reddish copper
This is not a big sherry monster on the nose – just like in previous years, it is sweet, fruity yet still delicate and gentle. There's caramel, blood oranges with bits and peel, orange marmalade with ginger, light Oloroso sherry sweetness, sweet wine grapes, caramelised ginger and pineapple, fresh dates and figs, rock sugar, hints of spices and a light eucalyptus note from the alcohol (it's hot in Austria at the moment so there's quite some evaporation going on). On top of all that is the slight typical Campbeltown salt note and, of course, light and fragrant Springbank-style peat. The palate starts out coating the entire mouth with a wonderful, oily, fruity sweetness and streams of water start running immediately. I like it when I can feel and taste a dram in every part of the mouth and this one is an excellent example. Flavour-wise it's a continuation of the nose: Condensed orange juice with bits and slices of peel, sweet sherry, sweet, freshly-squeezed grape juice, grapes, fresh figs, fruit cake, marmalade, rounded off with ever so slight spices and a hint of peat smoke. The long finish is very consistent with nose and taste – initially fruity sweet, rolling down oily and ever so gently with a lingering mix of sweetness, spices, hints of smoke and salt.
Verdict:
Well, I've never been the biggest fan of the Kilkerran Sherry cask releases, I've always felt they were bit behind in maturation in comparison to the Bourbon releases – probably due to the considerably bigger casks. Well, I'm a convert – they've caught up! I have yet to taste the new bourbon cask release (right after the break), but this is every bit a good as the bourbon releases from the previous years. Not the most complex, bold or overwhelming dram (it doesn't need to be), but very tasty, sweet, fruity and consistent from nose to finish. Well, this year's releases are the last of the "work in progress" series – next year is going to see the release of the "finished" product. This dram is already "there" in my book!
Score: 88/100
(Nose: 87 Palate: 89  Finish: 88)
The sample was kindly provided by Cadenhead's Whisky Market Austria. Cheers!