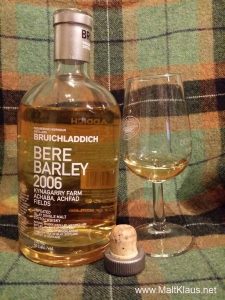 Dram data:
Distillery: Bruichladdich
Bottler: official bottling
Distilled: 2006
Bottled: 2012
Age: ca. 6 yo
Limitation: 7650
Casks: –
Alcohol: 50%
uncoloured / unchillfiltered
Whiskybase link
By golly – it's been over a week since my last post – I'm losing steam, and that's not helped by the – yawn – constant PR onslaught of ever more expensive and ever more marketing-driven whiskies where one is less interesting than the previous one to the malt whisky veteran…
Right, that's enough, Klaus, time to stop lamenting and do something. How about this nice bottle of Bruichladdich from the personal archives? Yes, that'll do nicely!

Tasting notes:
Colour: golden straw
At roughly 6 years of age, this is still a young dram, but the nose reveals a nice and fitting balance of spirit and cask (probably mostly fresh ex-bourbon casks). The two dominant flavours are vanilla and – bere! I was on Orkney earlier this year and brought back a pack of bere flour. I've been experimenting with it a bit, so it is easy to detect the very distinct, sweet, bready, malty flavour, which is 10x the intensity of "normal" malting barley. These two main aromas are supported by those of wet millstones, aged orange peel, toasted bannocks and just a pinch of kitchen spices. A rather simple, clean nose, but it's the nuances and the malt influence that make it interesting – and make it work! Let's check out the palate next! The alcohol is strong on the big, punchy, very oily and mouth-watering arrival. Boom! Just like the nose, it's quite simple, but the simplicity is making the spirit character shine, which is what this whisky is all about. Quite a hit of vanilla – the fresh casks speak again – citrus peel, citrus seeds, stone minerality, and, after the punchier flavours have died down, the malt reveals itself in the unique, bready, slightly toasted and sweet bere character. The long finish is quite oily and sweet upon swallowing, with notes of citrus and vanilla. Once these notes have died down, a sweet, malty bere barley note lingers for a long time.
Verdict: Oh! I have to say, this was the most fun whisky I've tasted in a long time! It's not the boldest, not the highest scoring, but the most interesting and, I'm repeating myself, fun. The Islay-grown bere barley (from Kynagarry farm, specifically the Achfad fields, according to the label) is the star of the show here. It is so fundamentally different from the character of "normal" barley, it is malty, bready with a very specific minerality. For years distillers have told us their hunt for ever higher-yielding barley varieties had absolutely no impact on the whisky. If you still believe them – try this whisky, of which there are probably newer versions out by now. Personally, I'd love to see many more experiments regarding malting barley carried out – and a shift in the industry away from yield-driven to flavour-driven varieties. Wishful thinking? Probably for the most part, but over in Ireland, Mark Reynier is doing just that at the Waterford distillery. Does it surprise anyone (not the veterans, of course) he once helped revive Bruichladdich, which brought us this truly "unique" dram I have in my hands here?
Score: 84/100

(Nose: 84 Palate: 84 Finish: 84)
Click here to read about all the Bruichladdich whiskies I've reviewed so far!