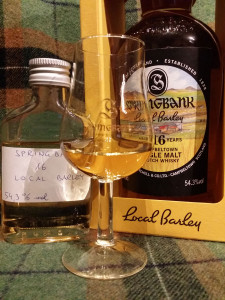 Dram data:
Distillery: Springbank
Bottler: Original Bottling
Distilled: September 1999
Bottled: January 2016
Age: 16 years
Limitation: 9000 bottles
Casks: 80% Ex-Bourbon, 20% Ex-Sherry
Alcohol: 54.3%
unchillfiltered and uncoloured
Whiskybase link
Tasting notes:
Colour: barley gold
Springbank Local Barley. Those three words make a malt lovers' heart beat faster. The old bottlings are legendary and after many years of waiting a new edition is out, with four more to follow in the upcoming years. The barley was grown a few miles south of Campbeltown on Low Machrimore farm. The barley variety used was Prisma – not particularly often heard of these days and I'm glad they mention these little details because the influence of barley on the whisky is rarely talked about these days, but it does exist – just ask a homebrewer – and why would it be different for whisky? This dram was, of course, also malted, distilled, matured and bottled in Campbeltown. A 100% local product. Except for the glass, cork and box… Right, on to the whisky then!
The nose opens on the light, delicate and mineral side. Quite a lot of bourbon in the mix and I can't help but think of the sublime bourbon matured Kilkerran for a second – they're sisters in spirit, but different enough. Very well-integrated peat smoke, on the smokier side as far as Springbanks go. A delicate hint of non-vulgar vanilla with wet beach pebbles, sewing machine oil, aromatic red and green apples, sweet pears, pear peel, slightly green gooseberries and apricots with a hint of apricot distillate (including kernels). Beneath these light notes a few darker impressions await their discovery – just a hint of dark chocolate with bits of dried dates? A delicate, shy but intriguing Springer! The palate is a bit more dominant on the arrival with zest and an initial blast of alcohol, but it says true to the light-ish, dry, mineral style. Don't look at this dram for bold sherry or big, flashy flavours. The peat smoke is lighter than on the nose, more brine and a lot more briny pebbles and perhaps slate as well. Licking a slate plate perhaps. There's also a dash of the sewing machine oil and the apples, pears and pear peels are back, with reinforcement by still slightly green apricot peel and raw, aromatic barley. Oh, this is utterly brilliant. Not a dram for your in-laws for the Sunday afternoon cake, no, this makes for an intellectual conversation all on its own. Many will hate it for being so bloody un-modern (vanilla, sweetness and bold sherry are all the craze right now). The medium-long finish has quite a bit of zest, mineral-oil, peat smoke and pebble-dust upon swallowing with barley water, green apple peel and dry notes following. Unusual, different, thumbs up.
Verdict:
Let me try an analogy here, comparing whisky to books: If modern-style whiskies had accompanying books, they would be flashy children's picture books. This whisky is best accompanied by Tolkien's Silmarillion or perhaps Kafka. Not an easy dram, not a dram you just quaff by the double measure, it's mineral, peaty, oily, dry with green fruits – a combination so rarely encountered these days. Not for everybody – but so are the Silmarillion and Kafka…
Score: 92/100
(Nose: 91 Palate: 93 Finish: 92)