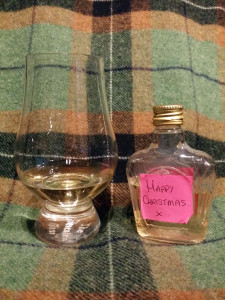 Dram data:
Distillery: Penderyn
Bottler: official bottling
Distilled: –
Bottled: 2015
Age: NAS
Limitation: –
Casks: ex-bourbon
Alcohol: 63,2%
Unchillfiltered, uncoloured
Whiskybase link
Tasting notes:
Colour: white wine
The nose is… wait, err, are we sure this is whisky? Something tells me there's an additional "e" in the name or is the reused Crown Royal bottle just there to deceive me? There's a fake perfumey, artificially sweet dominant vanilla note right at the front, which, thank god, fades after a few minutes but still stays present. Vanilla, old banana, limoncello, neroli, orangey ladies perfume, coconut, caramelised ginger, toffee, orange Haribo gummi bears and, well, toasted american oak "spices" with a cooling alcoholic sensation.

This noses pretty young – the oak influence tells me it was a rather fresh cask – paired with the lack of "aged" character this can't be an inactive cask aged for a long time. I'd say about or under five years – still a bit young, wild and rascall-ey, trying to find a direction firing off loads of aromas. The palate starts … err, excuse the interruption, but this is getting weirder! Quite a bit of alcohol – is this cask strength? At least 55% I'd say, probably even over 60! Elderberry flowers – loads of them! Homemade elderberry flower syrup with lemons and loads of fake vanilla flavour. Quite sweet and mouth-coating, oily. Toffee, butterscotch, butter cookies, a drop of bitters (real herbal stuff), neroli, bitter apple skins, birch sap, open Sauternes from the day before yesterday and caramelised ginger which is on the brink of turning funky. Errr… can't remember having had a weirder whisky before. Interesting, absolutely, out of the ordinary, yes, but a bit too "loose" and "weird" for me at least. Right, let's move on! The medium-long finish packs a punch, sappy with sweet palm honey and ginger spices with artificial vanilla and quite a load of alcohol upon swallowing, mellowing down to sweet, floral, medium-dry notes.
Verdict:
One word: "weird". Not your everyday dram – and probably not one for casual sipping for most. It is young, loud, sweet and filled with all sorts of "interesting" flavours you don't find too often in a whisky. An educational experience, but I do prefer a tad more traditional flavours in my drams. What could it be, what could it be? Can't imagine it being Scottish (but who knows what kinds of odd casks are being tried out these days…). Maybe some odd Canadian juice? After all, they can add some 9% (ish) "other" flavourings to their Whiskey. But then again it's too high in alcohol to be a standard 40% Canadian dram and they surely wouldn't mess with their higher-prized cask-strength stuff. Maybe something completely different? One of Great Britain's (England, Wales) other young distilleries? Not too familiar with those. Ah well, time to find out!
Oh, err… really? Single cask Penderyn – from an ex-bourbon cask too, no finish no nothing? Double weird! On sale for roughly 250 quid. Excuse me? Strike the "2" and sell it for 50, that's quite a bit more reasonable. No need for further discussion after seeing the price tag now, sorry…
Score: 79/100
(Nose: 82 Palate: 77 Finish: 80)
Cheers to my friend Jo Lawson for the mystery sample!