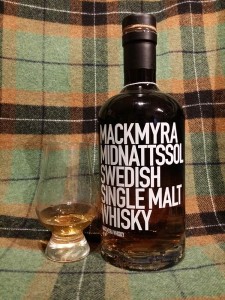 Dram data:
Distillery: Mackmyra
Bottler: Original Bottling
Distilled: –
Bottled: 2014
Age: NAS
Limitation: –
Cask: Birch sap wine cask finish
Alcohol: 46,1%
unchillfiltered; natural colour
Whiskybase link
Tasting notes:
Colour:dark gold
It's apparent from the first nose that this is not you usual malt whisky. Does it nose like whisky? I'm not entirely sure, but it is intriguing! Sweet and herbal treesap, freshly rubbed birch leaves on syrup with a bit of vanilla mixed in, dried oranges, orange oil, ripe banana, mango skin and a (pleasant!) note of herbal cough syrup prepared with Demerara sugar. An herbal-sweet combination like I've never encountered it in a whisky before. Pleasantly different. The palate is also quite "green" on the arrival, with notes of diluted sap, oak staves and leafy notes mixed with stevia sweetness. Quite a bit spicy with citrus notes and some vanilla mixed in. Just like the nose – this is unlike anything I've encountered before. The medium long finish is quite dry with initial spices giving way to "green" and floral notes with a sappy edge.
Verdict:
Many distilleries try putting something "unique" on the market in an attempt to differentiate themselves from the competitors in the currently very crowded marketplace. Where most is just marketing, Mackmyra has really delivered something unique. The casks used, according to Mackmyra include "American and Swedish oak, sherry and bourbon". Well, only the vanillas from the American oak remain, because the "final finish in casks that have previously stored Swedish wine made from birch sap" completely overshadows all the other aromas. I did not look up the composition of this malt prior to reviewing but the sappy component is really apparent and unique to this dram, making it an interesting experience. Well, "interesting" can be either good or bad – in this case you really need to decide for yourself whether the result is to your taste as it's definitely not your "typical" whisky. For me personally it's an odd dram, named after the Swedish midnight sun, I have every once in a while to freshen things up and while not overly complex I quite enjoy it.
Score: 83/100
(Nose: 85 Palate: 83 Finish: 82)