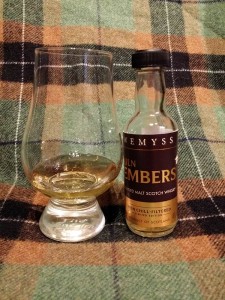 Dram data:
Distillery: –
Bottler: Wemyss Malts
Distilled: –
Bottled: 2015
Age: NAS
Limitation: 12.000 bottles
Cask: –
Alcohol: 46%
unchillfiltered; natural colour
Whiskybase link
Tasting notes:
Colour: gold
Kiln embers, they call this. Double the Islay malt content compared to the peat chimney. Well, let's find out and let me stick my nose in! Yep, ashy peat smoke, but restrained. A gentlemanlike version of the brute Laphroaig 10yo Cask Strength tends to be. More accessible and mass-compatible, if you like, without being weak. Right, what else do we get? A wee floral bath soap note lurking in the background, overshadowed by brine, vanilla and citrus fruit notes. Honey provides a touch of sweetness with heather and ginger adding green and spicy notes – quite layered, the kind of depth only achieved by blending different distilleries' malts but without overwhelming. The palate starts off peaty too, but actually a wee bit flat with just the alcohol being noticeable on the tip of the tongue. The alcohol dies down after a few seconds, revealing peat smoked, vanilla-flavoured spiced honey with a tough of brine, a floral, "green" aspect and citrus notes. The long finish is smoky, peaty and citrus-laden upon swallowing, mellowing down quickly to a sweet and peaty combo.
Verdict:
This dram was part of the Wemyss Malts #WemyssTT4 tweet tasting, organized by Steve Rush @thewhiskywire for which I was chosen as a participant. As my palate wasn't on its best that night I chose to retaste these drams one by one at a later time. This is definitely the better version of the Peat Chimney, a 12yo version of which I already tasted last year, more oomph, more peat. You could call it Peat Chimney on steroids! Very quaffable, affordable and thankfully bottled ad 46% now, though the range sadly lost their age statements. As Wemyss Malts mentioned during the tweet tasting, the entire range (The Hive, Spice King, Peat Chimbey, Kiln Embers) was created as introductory malts to the different styles of whisky and they do a very fine job at that. Not only is this bottling accessible for people new to the world of whisky, it also serves as a fine daily dram at a good price for advanced whisky lovers. I just hope it'll end up being a permanent addition to the range, currently it's marketed as a limited edition…
Score: 84/100
(Nose: 85 Palate: 83 Finish: 84)