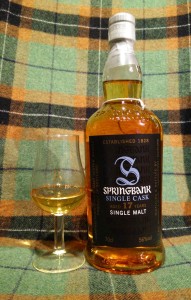 Dram data:
Distillery: Springbank
Bottler: Original Bottling / Potstill Edition "Brianna's Choice"
Distilled: 10.1996
Bottled: 07.2014
Age: 17
Limitation: 149 bottles
Casks: Refill Sherry Cask
Alcohol: 56%
Unchillfiltered, natural colour
Whiskybase link
Tasting notes:
Colour: red gold
The nose immediately reminds me of the 2015 Springbank 17 sherry wood I just tasted yesterday. It's not the same, but the common denominator is the quite noticeable and similar wood influence on top of the signature Springbank saltiness. The wood influence, even though it is a refill cask, is dominating, making it hard to pick out the Springbank peat smoke. Notes of old leather jacket, oily stale coffee beans, cocoa, old cloves and ginger – a very tight package. So, where's the sweetness? It's there, in the background, a mixture of burnt chocolate toffee and half-fermented dark fruits. Which fruits? Pick any, it's too tight to tell them apart. Very well-integrated alcohol, this noses like a 46% ABV dram. With water: More of the same. With even more water: Getting a tad sweeter. On to the palate now: Oh wow, here's the alcohol, it's alive and kicking with oak tannins and a slight fruitiness. Let me add a bit of water for further examination. And even more water. Definitely more sweetness now, a mixture of herb-infused honey and caramelised ginger pieces fighting against the wood tannins, but it's more of a balanced fight. There's also cocoa, cloves, cinnamon sticks, old banana, orange oil, half-ripened apricots. The Springbank maritime salt note is there (and very noticeable!) but I don't get much smoke. Let it breathe, give it water and time and it gets sweeter. The finish (with water) is spicy at first, very warming, then drying down to a sweet, tannic, salty mixture lasting for a long time.
Verdict:
This Springbank is a single cask bottling for Potstill Vienna to celebrate the 18th birthday of a young lady called "Brianna". A fitting dram for the occasion. Comparing it directly to the just-released 2015 17-year-old Sherry wood edition it is has noticeably more cask influence, more salt and a bit less complexity in the palate, thus scoring one point lower.
Score: 87/100
(Nose: 87 palate: 87 Finish: 86)
Thanks to Manny for the sample – so I didn't have to open my bottle just yet 😀