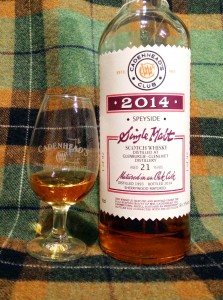 Dram data:
Distillery: Glenburgie
Bottler: Cadenhead's
Distilled: 1993
Bottled: 2014
Age: 21
Limitation: 92 bottles
Casks: Ex-Sherry
Alcohol: 51,1%
Unchillfiltered, natural colour
Whiskybase link
Tasting notes:
Colour: deep red copper
The nose opens on a dark note with kirsch, dry sherry (maybe Fino? I'm not the biggest expert on Sherry, sorry…), plum schnapps, european oak spices (old wardrobe with moth balls?), some dried toffee and caramel (not the sweetness, just the aroma), cocoa powder, instant coffee and a hint of eucalyptus.
On top of it all is a rather young "Melissengeist" (spirit of melissa) note. No malt to be detected at all – very peculiar on the nose, to say the least, this could just as well be kirsch and plum distillate matured in a sherry cask… Let's see what the palate is like: A mixture of rich oak tannins and dry sherry notes, with all the action  going on in the front of the mouth and the tongue. Dried plums (without the sweetness), bitter salad (in a good way…), cocoa powder, cloves, allspice, nutmeg, cinnamon all mixed into sour cherry juice with a strong alcoholic tingle. Water tames the alcohol and combined with waiting half an hour adds a little sweetness, but that's it. The finish is dry and tannic as well, slightly sour, herbal, not too loud but lingering for a long time.
Verdict:
This dram is nearly devoid of any sweet and malt notes. They sure have picked a very characterful cask for the 2014 Cadenhead's Club bottling, definitely not your run-of-the-mill whisky, quite educational, actually. It doesn't say on the label, but I guess this was a cask which previously held a rather dry sherry and letting the oak do most of the work. Combine that with a rather clean distillate and this is the result. Not for purchase anywhere (at least officially), I'm afraid, it was allocated to the (paying) club members in exchange for their stamp cards – click the link above if you want to know more about the club.
Score: 89/100
(Nose: 89 palate: 90 Finish: 88)