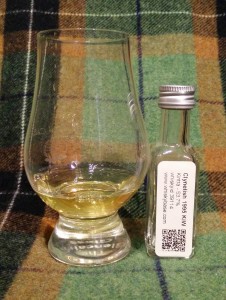 Dram data:
Distillery: Clynelish
Bottler: Kintra
Distilled: 12.1995
Bottled: 11.2012
Age: 16
Limitation: 90 bottles
Casks: Refill Sherry Butt 2156
Alcohol: 53,7%
Unchillfiltered, natural colour
Whiskybase link
Tasting notes:
Colour: straw
The nose immediately reminds me of medicine. Well, some might actually call whisky medicine… A spicy, herbal, peppery mixture. Aniseed, dried kitchen herbs, grass, white and black pepper, menthol and alcohol. Herbal liqueur and cough syrup. Sweetness? Not really. Adding a dollop of water takes away the alcoholic, menthol edge. The palate reveals the missing sweetness, but only initially, then dry herbal notes and alcohol take over. With water: Still dry, tannic, yet oily, bitter kitchen herbs, dark chocolate, brazil nuts, waxes, fresh-cut grass. The alcohol stays present. Very little background sweetness of vanilla pudding? The finish initially exhibits a moment of sweetness but it is quickly replaced by a lingering herbal note.
Verdict:
I have rarely encountered a whisky with so little sweetness, it's almost completely herbal and spicy and packs quite a punch, even when diluted. An interesting experience, yes, but just not my style of dram.
Score: 79/100