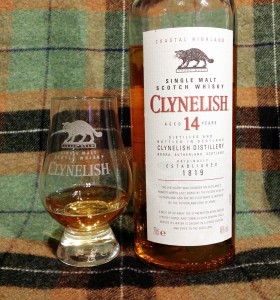 Dram data:
Distillery: Clynelish
Bottler: Original bottling
Distilled: –
Bottled: ca. 2014 – batch L4253CM000
Age: 14 years
Limitation: –
Casks: –
Alcohol: 46%
chill filtered; artifical colouring added
Whiskybase link
Tasting notes:
Colour: deep gold with a fake orange caramel glow
The nose is immediately drawn to the signature wax notes which are so typical for Clynelish. To me it's a praraffin type waxiness, not the natural beeswax note, but it adds to the character. What else? Vanilla from the ex-bourbon casks, of course, I doubt there's a sherry cask in the mix, even if the fake colour makes one think so. A rich mixture of waxy, sweet and fruity notes with slight spices – notes of honey, orange juice, sweet Kiwi, sweet grapes and caramel-covered ginger. The palate is quite oily and sweet with a mixture of orange juice, thick sweet grape juice, honey and cotton candy. The waxy note is there too, covering teeth and lips. I like it very much when a dram covers the entire surface of the mouth with its aromatic components – this is one of them. Searching for more notes, because sweet and waxy sounds a bit simple, doesn't it? Well, that's what it is – but it a quaffable, enjoyable way and the 46% bottling strength certainly help. Another few sips and an in-depth investigation also reveal a slight dryness towards the end, caramelised ginger and aromatic traces of oak. The medium long finish is a bit nippy upon swallowing which is soon surpassed by a mixture of oily waxes, sweet malt and cotton candy with dry spices appearing towards the end.
Verdict:
The label says "originally established 1819". Well, that would of course be the old Clynelish distillery, now better known as the mothballed Brora, superseded by a new factory-like distillery in 1967 (which is now slotted to being doubled in capacity). It is, of course, this new distillery which produced this malt. A rich, fruity and sweet dram with the signature waxy notes and influences of spices. A very quaffable and dangerously drinkable malt from a distillery which doesn't get nearly as much love as others in Diageo's control. I applaud them for bottling it a 46% (though I'd like it if they'd ditched the dreaded caramel colouring too…), I wish this was the norm for all Diageo official bottlings. In my book, the Clynelish 14 ranks as the third best official Diageo bottling after Lagavulin 16 and Talisker 10 and it's very well priced (shhh… don't tell them!).
Score: 84/100
(Nose: 85 Palate: 84 Finish: 84)