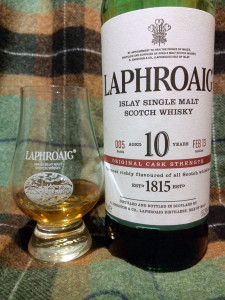 Dram data:
Distillery: Laphroaig
Bottler: Original Bottling
Distilled: –
Bottled: Feb.2013
Age: 10 years
Limitation: unknown
Price at the time of purchasing: 47€
Cask: –
Alcohol: 50%
Possibly Unchillfiltered / Natural Colour(?)
Whiskybase link
Tasting notes:
Colour: deep copper. On the nose I get peat smoke from a metre away… As I stick my nose in there's an even bigger waft of smoke – hot bonfire with some rubber thrown in for good measure, iodine, salt, brine, seaweed, white pepper, earthy notes and a bit of freshly mown grass and kitchen herbs. At the same time there's a distinct sweetness in the background adding a nice complexity and counterbalance to the force and might of the peat. Caramel, cough lozenges, liquorice, maple syrup, blood oranges, hospital bandages, auto shop. After some time in the glass the sweet notes become more and more pronounced, even more so after adding some water. On the palate there's more of the burnt seaweed-bonfire brinyness, iodine, oriental spices – quite oily too with the same nice underlying sweetness I already got on the nose. Adding two espresso spoons of water mellows it down a little bit  and brings out more spices and sweetness but I actually prefer it at full bottling / cask strength. The finish is very typically Laphroaig – it goes down with a bang. Mouth-filling peat, iodine, salt, some bitterness (bitter coffee?) – and if you don't brush your teeth it lasts till the next morning.
Verdict:
If you don't like the standard 10-year-old Laphroaig – don't try this one. If you like the standard 10-year-old Laphroaig – try it! It is more phenolic, sweeter, packs more of a punch and is an all-round winner (if you like this style of whisky). Sadly this is only available at the distillery, respectively on their webshop. Still, amazing value for the money. It was well worth carrying home all the way from Islay in my backpack when I visited the distillery last year and.
Score: 90/100