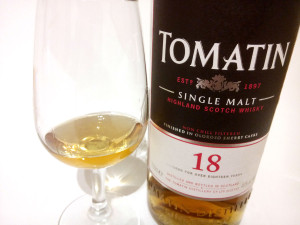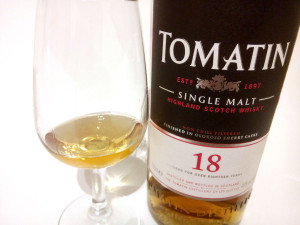 Dram data:
Distillery: Tomatin
Bottler: Official bottling
Distilled: –
Bottled: around 2010? (bottle code 10/9453
Age: 18 years
Limitation: –
Price at the time of purchasing: 52€
Casks: Ex-bourbon / Oloroso Finish
Alcohol: 46%
Unchillfiltered / no colouring added
Whiskybase link
Tasting notes:
On the nose I get vanilla sweetness, cinnamon, cardamom, orange zest, ginger, light honey, ripe white grapes, some spiciness from the oak coming through. One gets the double complexity from a spirit matured for a long time in (I'm guessing mostly refill) bourbon casks and a not too long finish in Oloroso sherry casks. Leave it in the glass for a bit and the lighter tones fade as the warmer, darker tones become more prominent. On the palate it is sweet, spicy, quite alcoholic at the tip of the tongue, ginger candy bitterness and nuts. This one packs quite a punch. The initially sweet-sour finish reveals more notes from the oak which linger for quite some time.
Verdict:
This 18 year old sherry cask finished Highlander is very promising and complex on the nose. Palate and finish are a tad more simple but quite enjoyable nonetheless. Considering the price of just over 50€ here in Austria it offers quite some bang (and age) for the buck/Euro and easily qualifies for the daily dram category for those who wish their drams to be a bit more mature and showing the influence of the oak casks. Bottling at 46% and unchillfiltered is very commendable and much appreciated
Update: I've been told by the distillery that there's no added colouring (ever) to their 18yo – despite the label stating so – so I edited those parts of the tasting notes. Things like that do happen.
Score: 85/100