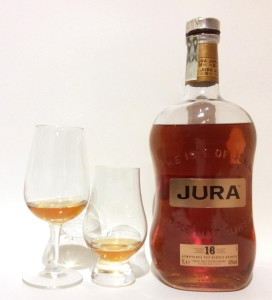 Dram data:
Distillery: Isle of Jura distillery
Bottler: Official bottling
Distilled: –
Bottled: around 2010 (older golden label)
Age: 16 years
Limitation: –
Price at the time of purchasing: 45€ / 1l bottle
Casks: 14 years ex-bourbon / 2 years Amoroso Oloroso Finish
Alcohol: 40%
Chill Filtered? Artificial colouring added
Whiskybase link
Blind tasting notes:
A dark, reddish colour and long legs promise an oily, sherried dram. The nose is very fresh, zesty, green apples, white pepper, tangerine, ginger, vanilla, some background sweetness, even a whiff of cereals which seems to come and go. I have to redact my statement about the colour at this point – definitely not overly sherried, but E150a I'd guess… On the palate then:  Very mellow and soft, no more than 43%ABV, I'd even say 40% (based on the nose I would've gone for 46%…), more fresh fruits, spices, vanilla-sweetness, even hints of raisins, toffee and darker fruits as well as a slight saltiness. No discernible cask influence going on the palate, I guess it's rather young (6-8 years?). The medium-long finish is rounded, mouth-filling, slightly sweet – very pleasing but a tad unspectacular. A few more % ABV would serve it well transporting more flavour components. After one or two minutes a noticable oaky spiciness appears.
Verdict:
(Written after learning about the dram in the glass): Wow, that one really caught me… (my brother, who poured me this dram is sitting next to me smirking as I'm tasting and typing this). At first it seemed like a rather old dram by the colour and the legs in the glass. Then came the really fresh, zesty nose making me think of a young, feisty spirit. And then there was the finish with its sweet and oaky notes – getting even sweeter after some time breathing in the glass – which made me once again think of an older dram. There must be quite some refill (and colouring?) going on here. The official statement of 2 years Sherry finish really surprised me, I found it much less pronounced than other Sherry finishes and heavy on the ex-bourbon side – maybe refill sherry casks were used? Nonetheless, a fine dram indeed but I would like to swap the 1l (travel retail?) bottling at 40% with a 70cl version at 46%.
Score: 85/100