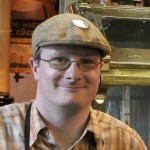 Welcome to my whisky blog, malt lovers around the world! Come on in, have a look around, pour a dram and enjoy.
Being a whisky lover for about 10 years now and having tasted many a dram since I started out I felt the urge of having a small place on my own in the vast space of the internet to write about the fine malts of this world and, especially, Scotland.
What will you find?
First and foremost I will be publishing my tasting notes. I always keep about 20 bottles open and open a new one when I've finished another. I also test samples or miniatures from time to time and products friends and family bring along so I reckon there will be about 40-50 tasting notes per year. I might also post notes on drams tasted at events, but that will depend on whether I'll get the time to thoroughly nose and taste them. I'll post tasting notes when I have them, that's my plan. There might also be guest entries and even double tastings together with my brothers, we'll see.
There will also be blog posts about random thoughts on topics and issues regarding whisky. I've got a few ideas in my head for the first series and solo articles and there's always interesting developments going on which are worth thinking about over a dram.
Another part will be notes and reports about events I'm visiting (not that many) and trips to Scotland. I've got a boatload of information from my trip in 2013 and I've got my accommodations booked for the return trip this summer which will also provide plenty of material to write about.
What won't you find?
There will be no advertising, be it hidden or in plain sight. Everything I post about is my own opinion and bought by myself (or sampled at events I attended or gifted from family and friends). Should I ever get offered freebies from the industry (not that I expect to or actively seek) I'll let you know and I won't accept them at all if conditions concerning the outcome are attached. You will also not find affiliate links to webshops – if and when I should mention other sites and shops it should be a recommendation from one whisky lover to another and not a decision based on return value or favors (i.e. commision on referred sales).
Thanks for being along for the ride, for reading, sharing and commenting! Please take the time to subscribe to my RSS feed and/or follow me on twitter (No, I am not on Facebook or G+, in case you were wondering).
Slainthe,
MaltKlaus