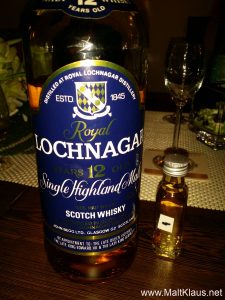 Dram data:
Distillery: Royal Lochnagar
Bottler: official bottling
Distilled: –
Bottled: 1990s
Age: 12 years
Limitation: –
Casks: –
Alcohol: 40%
coloured / chill filtered
Whiskybase link
While this should probably be tasted head to head with a recently bottled sipling, lacking a sample of one I'll have to make do with what I've got – a Royal Lochnagar distilled in the "dark days" of the 1980s, bottles sometime in the 90s. Let's see how this one fares!

Tasting notes:
Colour: light copper
The nose is quite delicate upon the first contact, with the alcohol vapours being somewhat noticeable. Once the nose cuts through that, there's a tiny whiff of smoke – not peat smoke, mind you – on a base of sweet things! Vanilla, sweetened coconut milk, fudge, dried mango pieces, canned peaches and apricots with a pinch of ready-made spice mixture on top. This is very likeable indeed and quite a lot deeper than modern supermarket drams in this price range. Let's see if it holds up on the palate!
Very gentle on the arrival, but not flat or watery, but rather creamy and oily. The flavours are not as pronounced as the aromas – they are a mixture of tinned peaches and apricots with vanilla, ready-made Christmas cake spice mix and orange (with crushed seeds). In the background, a hint of oak can be found lingering around adding to the complexity. Not the most complex or intriguing, but nicely sippable without any negative points. The short to medium long finish is light yet oily and creamy upon swallowing – the fruits are there, the orange is there, the spices and the oak are there. At the very end, a slight yeasty/oaky note keeps hanging around.
Verdict: Now that was a pleasant surprise! We are dealing with an entry-level single malt whisky that was never intended to please the most discerning of palates. All things considered, a more than decent, somewhat simple yet very pleasant daily sipper. Now I really do need to check how the currently bottled versions compare…
Score: 80/100
(Nose: 83 Palate: 79 Finish: 79)
Sample provided by malt mate Oliver