Why do you attend whisky fairs? Yes, you on the other side of this internet connection. Why do you go? To taste the latest and greatest? To attend masterclasses? To learn more about spirits? To get drunk at "all included" events? All (more or less) valid reasons to attend – but none of these really draw me to a fair. In fact, I rarely ever attend whisky fairs – precisely for these reasons. I'm not as much interested in tasting the latest and greatest I'll probably never ever buy anyway due to sticker shock. I don't enjoy rushed masterclasses where you basically knock back five or six drams in the same time I usually spend with just one. And, most of all, I don't like getting drunk knocking back drink after drink just to get "my money's worth" at all-inclusive events.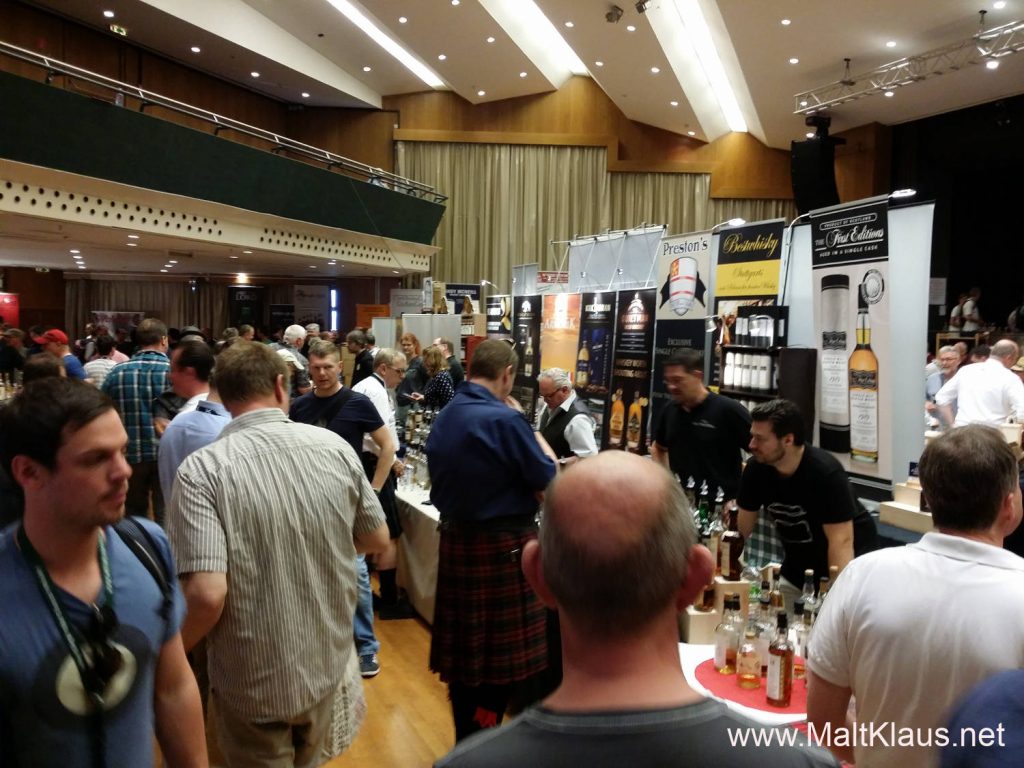 So, why the heck did I attend the Limburg Whisky Fair 2018 just this past weekend? Well, I did not just attend a whisky fair – I attended a networking event with the opportunity to try whisky I would be very hard-pressed to find anywhere else!
For me, the Limburg fair already started on Friday with a privately organized dinner at a local restaurant. Imagine the kind of dinner where everybody orders food and beer and the landlord is more than happy to see all the open bottles of whisky on the table, brought by the guests. Pretty much unheard of in just about any location – but not in Limburg! Great food, great people, great conversations and mediocre but drinkable beer (ahem…) – a recipe for a long night. Thank god the fair wouldn't start until 11 a.m. the following day!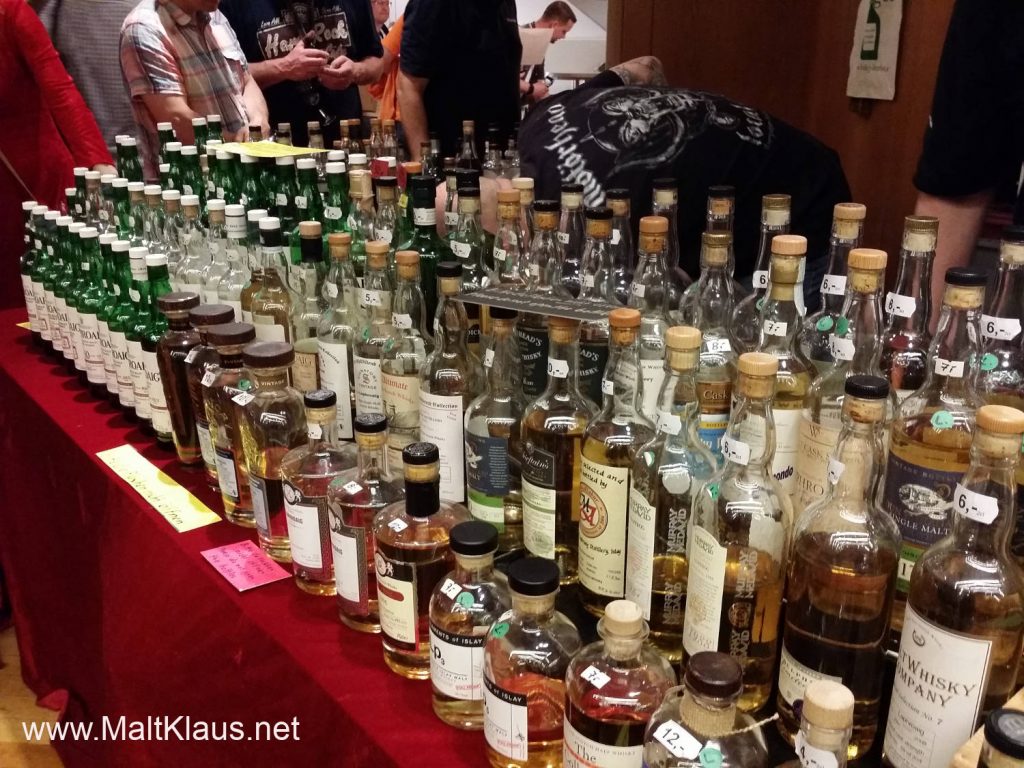 A few hours of sleep and a huge breakfast at the hotel later it was time to head to the fair. Now I thought I had seen long queues before – those were the longest ever! The Limburg fair is popular! People kept telling me attendance was actually low for a Saturday, but the halls were so packed I didn't manage to get to all the different tables – and managed to miss a few people I had intended to meet. Despite that: One thing was apparent: Limburg is the place for real whisky fans! Of all the big whisky companies, only Diageo had a small booth (for the first time, I think). The other tables were all taken up by independent bottlers, small companies, small(ish) importers, a few select distilleries – and loads of sellers of vintage whisky. The latter category got the biggest share of my attention, my goal to find interesting bottlings of years gone by to broaden my whisky education was only limited by the size of my budget. Blends from 100 years ago, single malts from long-lost distilleries, oddities, rarities – you name it! If you can't find it in Limburg, chances are you won't find it at any other fair on the European continent. "Per dram" prices at most booths were very reasonable and so I managed to fill a number of sample bottles with the more interesting things that deserve to be enjoyed in a much calmer setting. There were sellers charging "bar prices" at 3-4x the equivalent bottle price (or more), but there are so many stalls you can easily ignore those without missing out.
So Saturday came and went – and I was hoping for predictions of a calm(ish) Sunday to be correct!
I was not to be disappointed! When the doors to the fair opened again on Sunday, I was in the building not two minutes afterwards! What a difference! Everything and everyone was much more relaxed and calm and lots of people had time for chats. Even more samples were filled, even more people produced bottles out of their bags and poured freely (1895 Cognac? Don't mind if I do!). That's what a whisky fair should all be about! Time flew (also thanks to the extended tea breaks with malt mate Keith) and listing all of the people I met would be a pointless endeavour, so I'll just say thank you to each and every one.
Whisky wise, I managed to fill quite a few educational gaps in regards to old blends (wartime distillates or older), things like peated Rosebank, closed distilleries like Lochside and Ladyburn and loads more. Most of them are sitting in sample bottles next to me and will be properly reviewed here on the site at one point or another. No rush when a whisky was distilled in the 1920s, right?
Are there any downsides to visiting Limburg? Well, there are a few things to mention, which are minor points really. The first one is in regards to masterclass tickets – if you want to buy some, you better be prepared to queue in advance and buy Sunday's tickets on Saturday (that was my impression at least). Tough luck if you're only there one day. Personally, I don't attend masterclasses, but that's what I noticed. Then there's the matter of the tasting glasses. Please ditch these horrible Bugatti glasses and swap them for Classic Malts or Glencairns. My cheeky mate Keith presented another friend with the same whisky in both a Bugatti and a Classic Malts glass – he thought they were different drams and preferred the latter – as does almost every serious whisky person I know. So bring your own glass of choice, just in case! Oh, and please, no bagpipes! Seriously! The player might well be a lovely bloke, but whisky festivals don't need even more noise filling the halls! Thank you!
All in all, with only a few small negative points, Limburg is THE place on the European continent for whisky lovers to meet, to network and to find the unfindable – at (mostly) fair prices. That's why I attend whisky festivals. Who's going to join me 2019?
Why do you attend whisky fairs? Which ones do you regularly visit? Have you been to Limburg? Let me know in the comments section below!