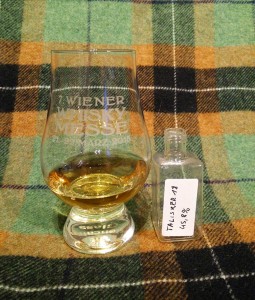 Dram data:
Distillery: Talisker
Bottler: Official bottling
Distilled: –
Bottled: 2012
Age: 18 years
Limitation: –
Casks: –
Alcohol: 45,8%
chillfiltered?; coloured
Whiskybase link
Tasting notes:
Colour: light red copper (with a fake tan)
The nose opens slightly subdued with a mixture of fragrant peat smoke, salty brine, freshly cracked pepper, peppermint and sweet caramel pudding with vanilla on top. Let it sit for a moment and notes of ladies' perfume (lavender?), fragrant oak, baby powder, fresh hay, caramelised ginger and marmalade appear. During the whole nosing experience the peppermint note from the alcohol stays dominant. On the one hand this dram has left the wild early teens and has settled down and matured considerably while still staying punchy and vibrant, thanks to good refill casks, I guess. Let's see what the palate has to offer: Quite a bit different, really. Gone is the alcoholic top note, what remains is a rather mellow dram which has lost quite a lot of its peat smoke character. Soft peat smoke, caramel pudding with reduced sugar content, chili peppers, crushed black pepper, dark chocolate, hot chocolate with cream, toffee, fragrant oak in the background. That's a load of sweet, dark notes on paper and they are all there, yet a bit subdued, not the in-your-face style. The medium-long finish has an initial spicy, chili kick which fade to reveal dark chocolate with cream, light and fragrant peat smoke – not the most intense of finishes, but fitting in style.
Verdict:
A well-matured Talisker, quite mellow, rounded and settled-down, neither overpowered by cask nor spirit. Younger and more vibrant on the nose, darker and more mysterious on the palate and finish. If one wanted to search for a fault, you could say it might be a tad too tame and crowd-pleasing.
Score: 88/100
(Nose: 89 Palate: 87 Finish: 88)
The sample for tasting was kindly provided by fellow whisky-lover Manny